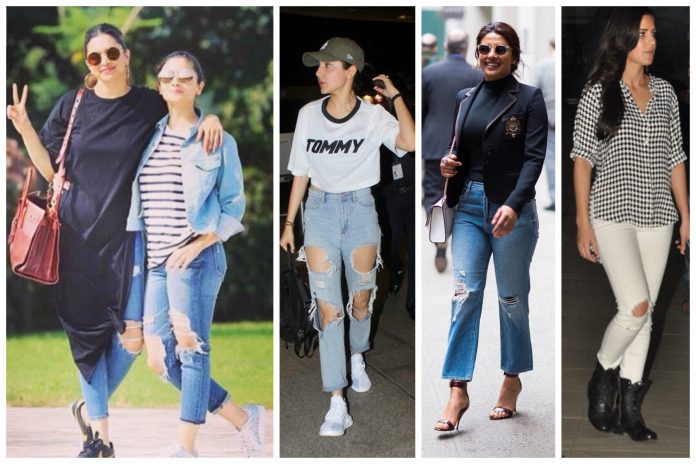 Since the time of its inception Denim has caught fancy of one and all. The moment the Levi Strauss & Co started making our beloved Jeans, fashion lovers have dived headlong into this trend.
Denim is one of the most universal, unisex and strong trends of all times. It continues to win our heart with its varied silhouette like skinny, cigarette, mom, cropped, boyfriend or ripped jeans.
Ripped Jeans/Denim is one such trend that has caught the fancy of many, even our pretty ladies from the Tinseltown couldn't resist them.
Bollywood Actresses in Ripped Jeans
In fact, they take the 'Ripped Denim' trend several notches higher with their effortless styling. Let's have a look at how much our Bollywood Celebs love to sport this trend.
Kareena Kapoor – The Casual Confidence
This yummy mummy visited Singapore for Manish Malhotra's show and it looks like her wardrobe staple was ripped jeans. From her Airport look to a stroll in Singapore, Kareena opted for this trend.
Do note, how she has cuffed the jeans and managed a simple yet classy look by just accessorizing with a statement shade, purse, and watch.
Deepika Padukone – The Leggy Lass
Whether an Airport look or a casual outing around the town Deepika adorns her long legs in a pair of Ripped jeans. So much so that you can easily call her the ambassador of 'ripped denim trend'.
Priyanka Chopra – The Power Dresser
Mirror mirror on the wall who is chicest of them all – Priyanka Chopra of course. This global fashion icon took the humble ripped jeans and made her own. Her forte lies in pairing these jeans with jackets that add a tinge of glamour to the look.
In fact, Priyanka can sport a ripped denim skirt over ripped jeans and make it look effortlessly chic. Take cues from PC for power dressing your denim.
Alia Bhatt – The Peppy Sass
This young superstar has played with this trend the most. She has taken it from cozy to stylish, from tomboyish to feminine. Alia sassily proves that there is a ripped denim for every occasion.
Kriti Sanon – The Girl Next Door
Kriti' style statement resounds the next door girl look. Take cues from her minimalistic styling for your everyday college look.
Sonakshi Sinha – The Experimental 
Nobody does the street style in Bollywood quite like Sonakshi. She can transform from a simple look to a quirky one in a jiffy. Follow her take on this trend to learn how to muti-style your denim.
Disha Patani – The Glam Tomboy 
If you are a Tomboy at heart and wants to bring feminity into your style, just blindly follow Disha Patani's take on this trend. She manages to pull off the ripped denim with a lot of oomph and the slightest amount of androgynous attitude.
Sonam Kapoor – The Quintessential Trend Setter
Sonam has 'Midas touch,' when it comes to fashion and she indeed turns this trend into gold as well. Unlike anybody on our list, the fashionista mixes the street style with high street creating a unique take on the trend.
 Anushka Sharma – The Stunner 
She is among the few ladies who have taken the trend 'ripped,' to its extreme and managed to look stunning in each look. Take notes from Anushka on how to pair your uber distressed jeans.
Katrina Kaif – The Swagger
The one word that is sufficient to define Katrina's take on the trend is Swag. A mix of comfort, style, quirk, elegance, and a whole lot of swag.
Our Bollywood Celebs are not just an eye candy but are also a bank of inspiration. Hope you were able to withdraw ample of inspiration for your next Ripped Jeans outfit. Don't forget to share your pictures with us.
P.S. Still confused! feel free to contact us for any queries.
You may also read more interesting articles –