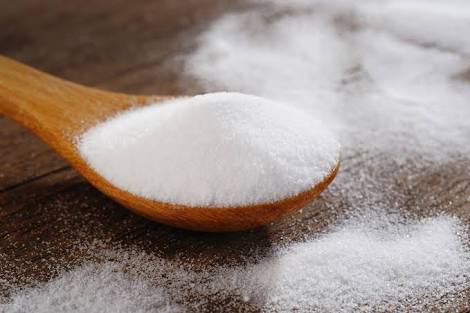 Did you know that baking soda can also be used for things apart from cooking? If you don't then these 5 beauty benefits of baking soda will totally surprise you.
1. FIGHTS ACNE AND PIMPLES
The antiseptic and anti-inflammatory properties of baking soda helps treat and prevent acne and pimples, It also helps to balance the skin's pH.
INGREDIENTS
•1tsp Bking Soda
•Water
METHOD
Mix 1 teaspoon of baking soda with a little water to make a paste.
Apply it on the affected skin for 1 to 2 minutes.
Rinse it off with cold water.
Repeat this daily for 2-3 days,then reduce the usage to 1-2 times a week.
2.HELPS TO GET RID OF DARK LIPS


Baking soda combined with honey helps to bleach your skin naturally to lighten the color of your lips. It also helps to get rid of the dead skin cells.
INGREDIENTS
•1tsp Baking Soda
•1tsp Honey
METHOD
Combine honey and baking soda in order to get a smooth paste.Apply this mixture onto your lips and leave it on for about 2 minutes. Gently rub the mixture on your lips with your fingers to exfoliate. You can do this 2-3 times a week.
3.HELPS TO WHITEN YOUR TEETH


Baking soda works as a mild abrasive which helps to remove the stains from the surface of your teeth, making them whiter and brighter.
INGREDIENTS
•1/2 tsp Baking Soda
•A few drops of Water
METHOD
Mix the baking soda with a few drops of water in order to get a thick paste. Scoop the mixture up with your toothbrush and brush your teeth for 2 minutes. Avoid brushing your teeth sideways as this can be abrasive. Instead, gently brush it in up and down and circular motions. Rinse it off thoroughly with water.
You can repeat this every other day for a week and then reduce the usage to twice a week.
4.BLACKHEADS REMOVER


Baking soda is one of the most effective natural ways to get rid of blackheads.
INGREDIENTS
•1tbsp GRANULATED SUGAR
•1tbsp BAKING SODA
•2tbsp WATER
METHOD
Prepare a paste by mixing one tablespoon of granulated sugar, one of baking soda and two of water. Gently cleanse your skin. Steam your face over a basin of hot water and then apply this paste onto your face massage in and rinse off, ending with a splash of cold water. You can repeat this once a week, until you get rid of blackheads.
5.NAIL TREATMENT

The bleaching and exfoliating properties of baking soda can help remove stains from the nails.
INGREDIENTS
•2tbsp Baking Soda
•1tbsp Hydrogen peroxide
METHOD
Mix 1 tbsp of hydrogen peroxide with 2tbsp of baking soda to create a paste. Use a cotton swab to apply this mixture onto your nails and underneath the nails. Leave it on for 2-3 mins and rinse off with warm water. Baking soda will help in exfoliating the nails naturally while the hydrogen peroxide will brighten and whiten them.
So these are some ways in which baking soda can be used to upgrade your beauty.
Try these and stay tuned for more such blogs!
Do read –