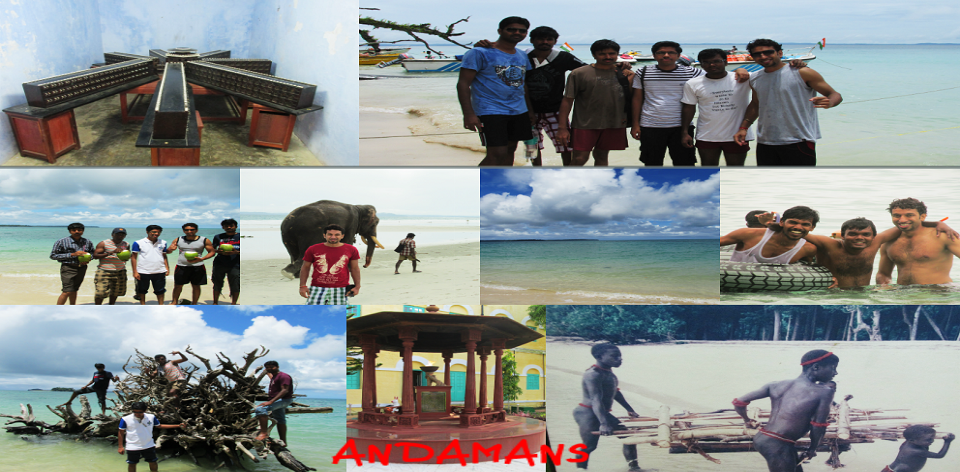 Bored of daily routine work?? Are you looking for some place to hang out with family, friends or girlfriend/wife. So here it is the perfect place for you bag packers.  This Andaman and Nicobar islands travel guide is worth to read for the bag packers who love to travel. Andaman and Nicobar islands are known for its virgin beaches, natural beauty, water sports and some of the old monuments. The unparalleled beauty of these islands, create in men a love of nature with a caressing tenderness, a wistful fondness for all its delicate nuances.
Location: Andaman and Nicobar are the group of islands where Andaman sea and bay of Bengal meets. It's union territory of India.
Port blair is the Andaman's airport (Veer Savarkar airport), which is well connected with cities like Chennai, Kolkata, Vizag, Delhi. It's a small airport, which gives an unforgettable view while landing. It takes approx. 2 hrs to reach from Chennai by air. One can opt water way also from Chennai, Kolkata and vizag. It takes nearly 3-4 days. But it's not a good option as there are no cruise liners are available. Only ships are available which don't have any entertainment facilities.
Aerial view

Language: People mainly from Tamilnadu, Andhra and Kolkata lives there. Hindi is the widely spoken language in Andamans.
Best time to visit : October to May
Climate: http://www.mustseeindia.com/Andaman-weather
Places to stay:  Lot of govt guest houses, resorts are available, which can be booked through online via Andaman tourism website.
http://www.andamans.gov.in/GovtAccomodation.aspx
if you have enough money in your pocket than resorts and other sea facing hotels are also available. This gives immense pleasure to heart and gives you unforgettable views. Hotels can be booked through any traveling websites.
Food:
Pure veg restaurants, non veg, north Indian food and other varieties are easily available along with south Indian food.
Places to visit in Andaman and Nicobar:
Port blair: Cellular jail: also known as Kala Paani jail. The prison was known to house many Indian activists during the struggle for India's independence. Veer savarkar was one of them. The Jail is one of the murkiest chapters in the history of the British rule in India. People are allowed to go inside the jail rooms and gallows. Beautiful view of sea can be seen from the roof of prison. Sound and light show can be enjoyed if you are reaching at the time.
 Anthropological Museum: There are many museum in port blair. Anthropological Museum is one of them. The anthropological museum contains all information regarding the indigenous people of the Andaman Islands like the Jarawa, Shompen, Onge. It also contains details regarding their ancestry and their daily livelihood. The museum contains several wooden models of tribal weapons used for different purposes.
Weapons used by Jarawa tribes
Marina park aquarium: This aquarium has got some of the rarest species of fishes and some of the water animals. zebra fish, stone fish etc are adorable.
Model of whale skeleton
Carbyns Cove beach and Snake Island: Ideal beach for sun basking, which is 7 km away from port blair. One can see the port blair central pray ground and enjoy the scenic beauty on the way from Cellular jail to carbyn cove. Water sports like motor. People can take ride on jet ski and speed boats. Though Andaman has got better beaches than this but people can plan to get here to see sun set. Snake island is accessible through speed boat from beach.
Ross Island: Its 2 km away from port blair. It was once the administrative head quarter of British government. It can be reached by a short boat ride from Water Sports Complex.
People can plan 1 day in port blair. Because there are other good places to visit in Andaman.
South Andaman Attractions:
Chidiya tapu: it is southernmost tip of Andaman. It is approx. 1 hr drive away from port blair. It is best known for 46 kind bird species and you can hear bird chattering sound all of sudden. Also known as ideal place to see sun set. On the way from port blair thick jungle and rocky outcrops, sea line shores are memorable.
Wandoor beach/Mahatma Gandhi marine national park/Jollly Buoy/Red skin island:
Wandoor is a small village near the southern tip of South Andaman. Buses are available from portblair. It takes 1.5 hrs to reach wandoor beach. Wandoor is one of the best beech in Andaman. It is not crowded. It gives pleasant view of deep blue sea. It is more known as the gateway to the Mahatma Gandhi Marine National Park.
From Mahatma Gandhi Marine National Park you will get boats to Jolly Buoy (Boat charges Rs 650/- per person both ways, including Rs 50 for forest permit to Jolly Buoy and Rs 25/- for camera).
At Jolly Buoy you will get to see corals (red, blue, sponge corals etc). Also you will be able to see life within these corals (particularly zebra fish). There is another island called Red Skin Island. Both Jolly Buoy and Red Skin remains open for tourists for 6 months alternately. Tourists Wandoor + Jolly Buoy/Red Skin is a day trip. Night stay not required. Boats from Jolly Buoy would return by 3 pm and then you can watch the sunset at Wandoor beach and return to Port Blair by bus.
Havelock:
It is most visited island of Andaman because of its virgin beauty, beaches, scuba diving, water sports. It takes 3 hrs time from port blair harbour to Havelock. Govt ferry/ships are the available. Only thing one has to see timings of ships and has to book tickets in advance as seats are limited. Seats can be booked through travel agents as there is no online booking. If you have already booked hotel in port blair than hotel guys can help you out by sending someone to stand in queue and book ticket in advance. One can opt sea plane and private cruise also.
Ferry on the way from Portblair to Havelock
The ferry ride from port blair to Havelock is adorable. These ferries have seating capacity of nearly 200 peoples. One can go on the roof and enjoy the water all around, flying fishes, high waves, small islands on the way.
Once you get down at Havelock, you can roam around in local market and restaurants. Speed boats are available from harbour to elephant beach. Speed boats will cost you around 2000 Rs. per boat or 6 people. Generally this cost includes onetime snorkelling also for each one of you. Price can be bargained. Speed boats are really fun, water is too clean at some of the places if driver stops the speed boat you can see bottom of sea and corals. Lot of water sports like banana ride, jet ski, snorkeling, sea walk, glass boat can be enjoyed once you reach elephant beach. Though riding glass boat is wastage of money if you are ready to do snorkeling. There are low waves in elephant beech.
Sea Walk at Elephant Beach
Old light house on the way from Havelock harbor to elephant beach
You can comeback from elephant beach to harbour and on the way you can see a small old light house. Below are some pictures clicked during the Havelock visit –
Radhanagar beach:
It is advisable to have food nearby harbour and further move to Radhanagar beach by booking car. There are fewer options available in radhanagar beach for lunch. Radhanagar is the best beech of Andaman, which gives a pleasant view. Waves are high there but it is a shallow beach. One can go 1km inside from edge but water will be always less than your chest.
Padi organise different scuba diving courses in Havelock. Information is available on http://andamanbubbles.com/.
Radhanagar Beech
My trip (7th sept 2013 – 9th sept 2013) – Author of the Article

We reached port blair from Chennai at 11:00 AM. We had pre-booking in Andaman teel house. It is avg govt operated guest house. This can be booked by making a phone call. Our transport facilities booked by gtchellian@gmail.com Driver picked us from airport in Tavera. The same transport guy had booked ferry ticket for us from port blair harbour to Havelock. Pre booking is required otherwise it is a mess.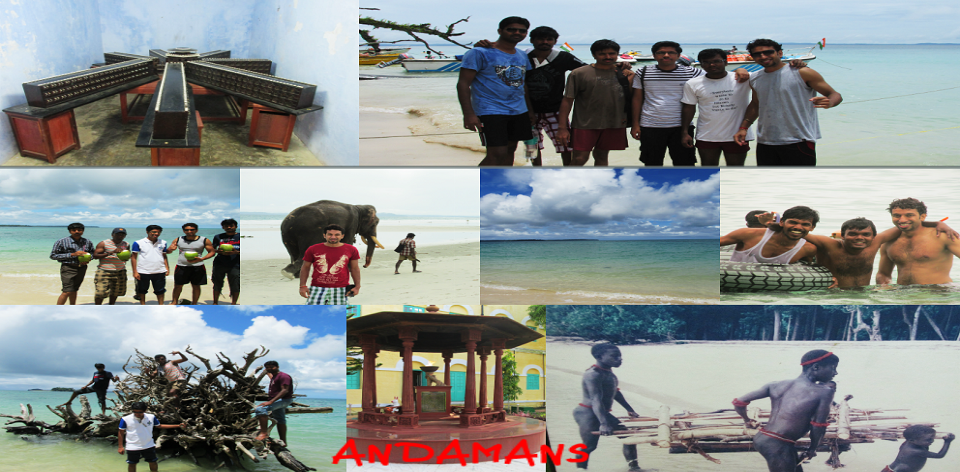 My trip of Awesome Andamans
1st day: port blair
Anthropological Museum, aquarium, Cellular jail, carbyn cove
2nd day: Havelock
Elephant beach, radhanagar beach. One can plan 2 days also if interested for scuba diving.
3rd day: South Andaman
Hotriculture farm, wandoor, chidiya tapu
It is advisable to search and make your plan accordingly as Andamans has so much to offer you. People compare Goa and Andaman which is completely annoying. It is definitely different than Goa as per crowd and silent beauty. But people can enjoy some bar here also. Spending time in Andaman is not too costly.
Also Read –