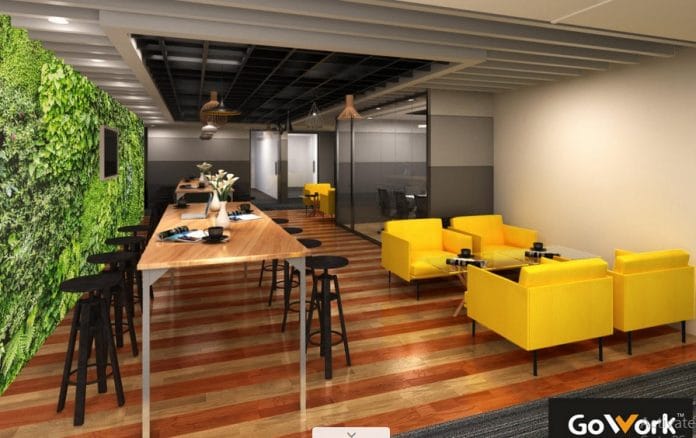 Sharing of space, ideas and vibes is the modern concept embraced by the new age entrepreneurs. With advancements, CoWorking space culture is also rapidly growing in the country, with not only startups, freelancers, small businesses, but large corporates opting for shared space.
As India Inc is witnessing a shift in preferences by entrepreneurs and companies of all sizes, Coworking spaces in India is redefining the concept of the shared workspace by going extra mile with its unique offerings networking zones, chilling lounge, creche, sleeping pod etc.
Have a look at 5 Co-working spaces with unique offerings in Gurgaon
AltF CoWorking –  AltF CoWorking is India's first private co-working space provider's spaces are characterized by quirky and innovative designs that make for a welcome departure from ordinary workspaces and dull environments. The unique interiors, along with offering members a fun and lively place to work and offers various activities like Yoga/ Meditation sessions, pet-friendly workspace, knowledge sharing sessions, beach zone, better operational hours etc.
The space neighbors the city's most happening nightclubs like Manhattan, Vapour Bar Exchange etc in Gurugram. Also, the company is differentiating itself from other players in the co-working segment, AltF CoWorking uses Virtual Reality to help clients see the office spaces, thus saving them time and ensuring faster on-boarding.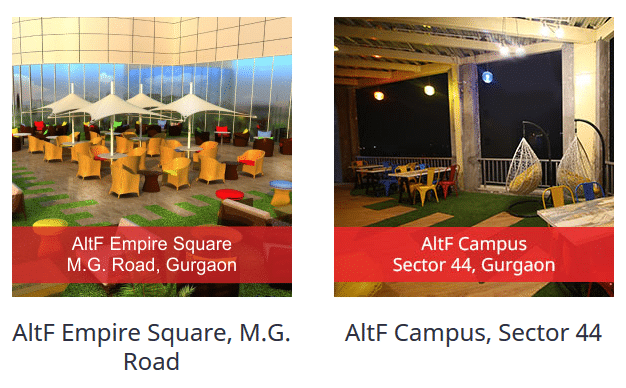 GoWork–  GoWork's exceptional offerings satiate the modern workforce's need for a unified experience of work, play and relaxation under one roof.  It offers fundamental utilities such as high-speed 2 Mbps internet access and impeccable communication devices. Aimed at enhancing the experience of its clients, consisting of global powerhouses, GoWork offers signature built-to-suit offices and incomparable amenities, like a de-stress lounge, tastefully designed island bar offering spirits sourced from across the globe, gaming zone, basketball and badminton courts.
GoWork also plans to launch more amenities such as gym, spa, unique 'frustration/meditation' zones, crèche, urban sleeping pods with TVs, and a live Kitchen to help professionals achieve the coveted work-life balance without having to step out of their workspace. It also engages its clients with community building activities such as bring your pet to work day, group vacations and game nights.
ONE Co.Work– ONE Co.Work launched in 2015, has its presence in Delhi, Gurgoan, Bangalore with 5 centers. The brand has received exponential recognition and caters to the needs of over 100 start-ups and entrepreneurs. Ramping up its operations to offer comprehensive support services to start-ups and entrepreneurs, ONE Co.Work, offers a unique product titled ONE Co.Cafe which converts cafes into vibrant co-working spaces and gives an easy time to users. Another exciting activity that ONE Co.Work is pursuing is Asia Hardware Battle, India 2018.
The event gives a platform to Indian Startups to showcase their disruption at this global level event and grab a chance to visit China and pitch in front of esteemed venture capitalists. Asia Hardware Battle will gather startups from India, China, Japan, South Korea, Singapore, Israel, Taiwan and Hong Kong giving a chance to them to garner funding.
WSqaure- The coworking area is a casual workspace for women from all walks of life, with a special focus on pregnant woman and new mothers, who are unable to work from home or want to network. With weekend workshops and on-call health and lifestyle services, the founders have filled the niche of a working space designed specially for women.
Besides the standard fare—wifi connectivity, coffee, etc.—Wsquare offers services like delivery of groceries or chopped vegetables, home-cooked meals, and crèches. It also organizes workshops on branding, social media, yoga, and life-coaching sessions. Wsquare also has facilities to meet the specific needs of women, including ergonomic chairs suitable for expectant mothers.
Investopad- Based out of Gurgaon, Investopad is the ideal space for start-ups and promises to provide sleek co-working a nd event facilities. They also help curate a global mentorship community to help startups grow and achieve their potential.
Other features include services of digital marketing, design and tech experts; services from consulting partners like IP, accounting and HR.
Also Read –