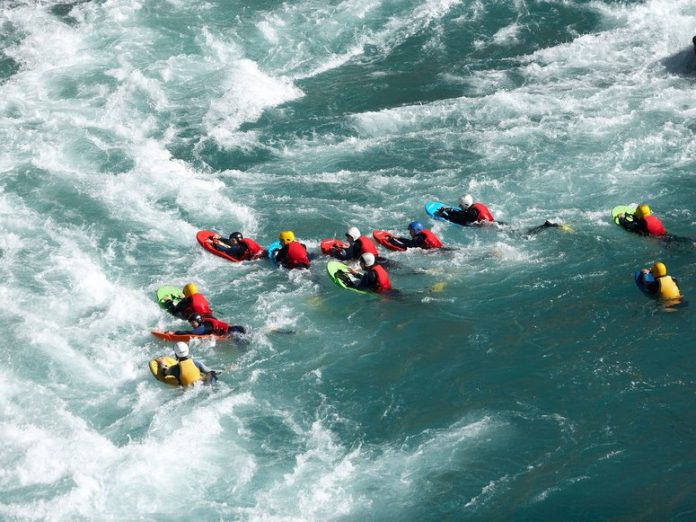 Don't you wish to take a break from your hectic lifestyle?
If you are someone who dreams of paragliding, skydiving, hiking, rendezvous with wildlife and activities that would bring an adrenaline rush then welcome to our post. We understand that you need an escape from the monotonous life and that is why we want you to experience the thrills of life by visiting the top 5 adventure destinations around the globe.
Islands lovers can spend their vacation Galapagos Islands or hikers can enjoy hiking in the beautiful Iceland. Also, those who relish exploring adrenaline rush adventure can do flight booking to Queenstown, New Zealand . Check out more about the adventure destination that will change the way you look life and motivate you to take such breaks in your life. Take a look and wanderlust:
1. Galapagos Islands à la Eco cruise:
Once known as Bewitched Islands, this breathtaking place is one stop destination for people who are looking for a long time vacation. You will be thrilled to just watch the islands that are situated 600 m off the coast of Ecuador, in the Pacific waters. The five islands are decorated with everything that your eyes want to see. From lagoons, forest, tropical birds to beaches, marine life, cliffs you will fall in love with the highly environmentally protected island on the globe.
 The best thing is that the island is unpolluted and definitely a treat to the eyes, mind, and soul. You can get into activities like scuba diving, snorkeling, kayaking, and enjoy the viewing the rarest sea lions, reef sharks, dolphins, or hike around the cliffs and forest and feel rejuvenated.
2. Iceland:
Iceland is considered as the most mesmerizing places of all time. The glacier caves, geothermal, hot pools, volcanoes, Northern lights are the beauties of Iceland. Indulge in a 5 days winter trip to the South Coast, visit the Golden Circle, which is famous for the Geysir hot spring area, Skógafoss waterfall, black sand beach Reynisfjara.
 Then admire the icebergs in Jökulsárlón Lagoon and a glacier hike in Skaftafell. Don't miss a dip in the Blue Lagoon, sailing on Glacier Lagoon and for a peaceful yet fun filled experience visit the famous 4845 ft mountain range Kerlingarfjoll.
3. Australia:
It is an ideal spot for adventure lovers and if you are on a budget travel then you can definitely look for Australia. Visit Fraser island which is the largest sand island and has a 75-mile beach with the view of dolphins, whales, and other stunning marine life, also not to miss is the multi-color sand cliffs of The Cathedrals. Trek through Australian Alps or hike through Red Center and tick of these places on your bucket list.
Ditch the crowded Great Barrier Reef and instead visit the unspoiled Ningaloo Reef that is home to 200 species of coral, fishes, sharks, manta rays and other stunning creatures. If you enjoy rafting, then you would enjoy river rafting in the Franklin River, Tasmania. Even a month's break wouldn't be enough to enjoy the fabulous country Australia.
4. Rain Forest, Costa Rica:
Gift yourself a trip to the famous adventurous Rainforest in Costa Rica and you would feel blissful to visit this spectacular place. Appreciate the beauty of nature when you visit the Rainforest and bring out the zealous side of yours as you are about to experience nature's wonder.
Rainforest walks at Cinco Ceibas, diving in Cano Island, to ziplining in the canopy and bird watching at Corcovado National Park you will be stunned with every activity that you indulge in.
Queenstown, New Zealand:
New Zealand is home to adrenaline rush activities and you can go from bungee jumping, heli-skiing, river surfing, jet boats and plenty more once in a lifetime activities. If you want thrilling river rafting experience, then enjoy a ride in Kawarau and Shotover Rivers. Whereas trekkers can enjoy trek with a twist- walk and wine the trails of Gibbston Valley River Trail, or a bike ride across the Queenstown roads.
Also don't miss the air adventures such as paragliding, heli tour around the picturesque Queenstown. The entire city is pumped up with exuberant activities and you would overcome many of your fears in this adventure land.
Let us know which among these is your favorite adventure holiday destination. Be ready with your Visa and go crazy in our fav adventurous holiday destinations. We would love to read your views and experience in the comments below.
Read more -:
Save
Save