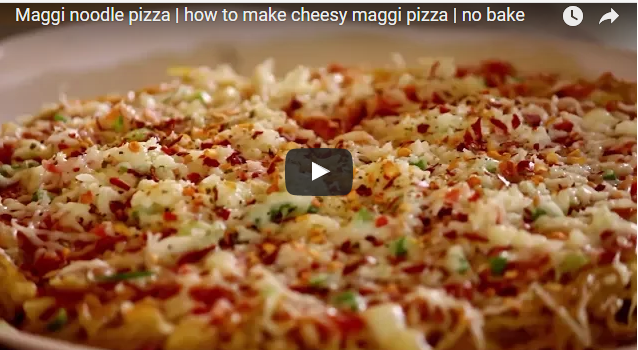 Bored of eating regular Maggi every alternative day?
Then this blog about most amazing Maggie recipes is only for you. We explored the YouTube and got 20 different Maggi recipes those you can make at your home, to satisfy your Maggi taste buds.
We urge you to check them all and share your favorite Maggi recipe with us though comment box.
You can always share this post with your Maggi buddies 🙂
1. Maggi Masala Recipe | Maggi banane ki recipe | Maggi Recipe in hindi | Veg Maggi |
2. 3 Min. Maggi Pakoda Recipe In Hindi मैग्गी पकोड़ा Indian Style Pakora Quick & Easy Pakoda Recipe
3. Cheesy Maggi Noodles Bread Pockets | Bread Pockets Recipe | Kids Snack – By Sritha's Kitchen
4. Cheesy Maggi Bread Rolls/ Simple Snack/ Easy To Make Party Starter Recipe by Tarla Dalal
5. Maggi Noodles Spring Roll | Quick Easy To Make Appetizer | Fast Food Recipe By Ruchi Bharani
6. Maggi Cutlet | Innovative (No potato) Indian Tea Snacks recipes by CK
7. maggi noodle momos recipe | veg noodles momos recipe | veg momos recipe
8. Maggi Sandwich | Kids Favorite Lunch Box Recipe | Crispy Sandwich Recipe
9. How to make Egg maggie || Easy Steps
10. Maggi Noodle Rolls – Recipe By Recipe House
11. Schezwan Maggi Noodles
12. Chinese Maggi Noodles

13. Restaurant style MAGGI 
14.Spicy Chicken Maggi Noodles
15. Cheesy Maggi Recipe in Hindi | Instant Recipe | How to Make Cheese Maggi
16. Maggi noodle pizza | how to make cheesy maggi pizza | no bake
17. Simple Bachelor's Healthy Fry (Maggi) Vegetable Noodles Quick and Easy – By JaiPadhu
18. बच्चों के लिए बनाए चटपटा मैगी पराठा बस 2 मिनट में तैयार | Kids Favorite Maggi Paratha Recipe |Maggi.
19. Maggi Samosa – Hindi with English subtitles
20.MEETHI MAGGI II मीठी मैग्गी II BY CHEF VARSHA
You may also read –