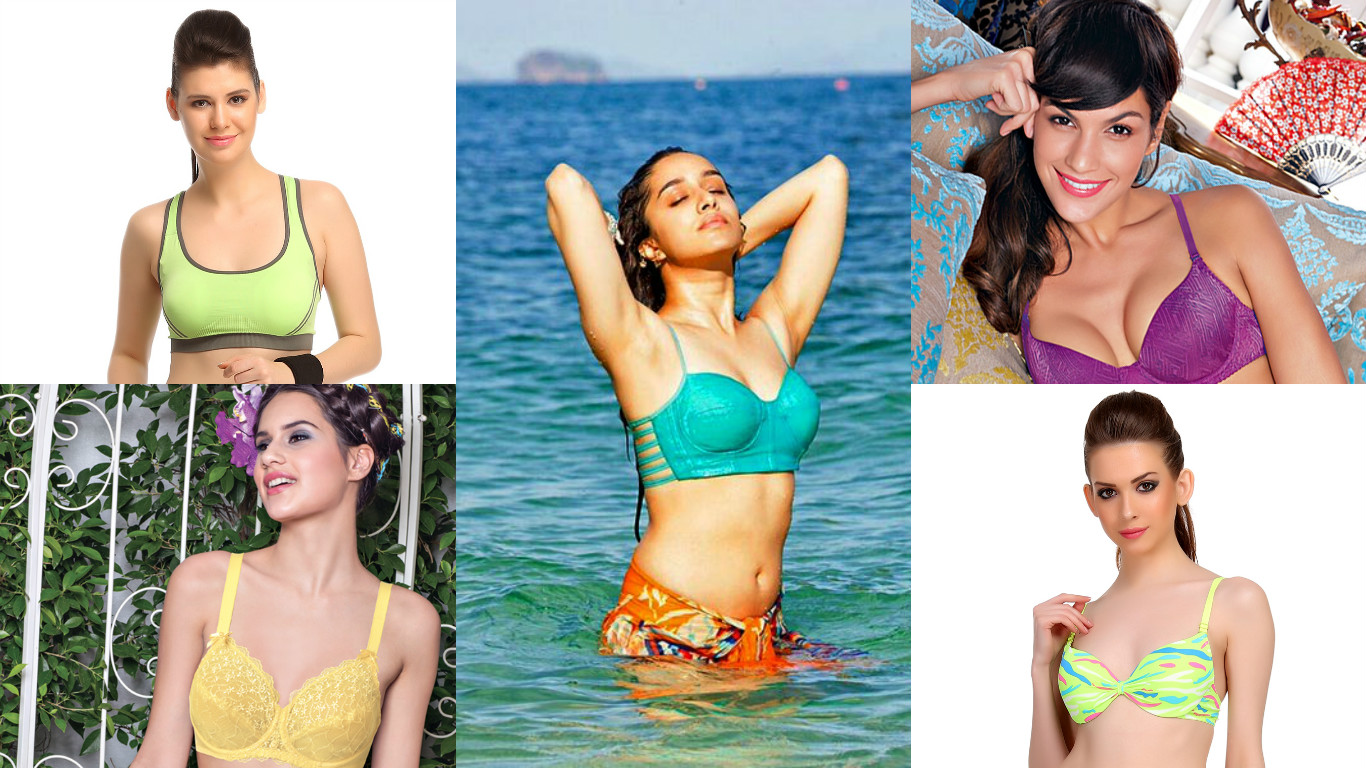 After Yogita- the founder of this blog, read the post 'What to wear with off-shoulder top?', she decided that we should enlighten our readers with what types of bras every girl should have in her wardrobe.
So here we are beautiful girls, sharing with you comfortable yet stylish bras that would make you feel confident and beautiful inside and out.
It is believed that over 80% of women wear the wrong bra (lucky are those 20% women), now that is a real large percentage.
But thanks to the technology, many online lingerie stores provide complete detail on how to buy the perfect measurement bra according to your body, also, many brick and mortar stores are there to help you in picking the right bra.
However, we are here to share with you the top 10 bras that every woman must own and feel beautiful inside and out. Take a look and go grab all of them.
This is a must-have bra, in every woman's wardrobe. The smooth and seamless cups will give support and perfect for the t-shirt with thin fabrics. Not only with tees you can even wear it with blouses too.
If you are slim, you can pick the padded bra, else if you have fuller breasts avoid the padded T-shirt bra. Teens who are a newbie to try bras, then we ask you to pick the T-shirt bra.
source:enamor.com
For your scoop neckline, low neckline top this is a perfect bra for you. Balconette bra is the shelf bra which uplifts and offers little coverage of about ½ or ¾ of coverage. Also, the bra enhances your cleavage and is sure to make you feel confident and sexy with this bra.
If you want a firm look, then you can pick the underwire balconette bra and look sensual wherever you go.
source: enamor.com
As the name, the push-up bra helps in lifting up and increases the cleavage and is a perfect for women with a smaller bust. Push up bra has a foam, gel, water air filling that would help in elevating the bust tissues and would look fabulous for outfits such as bodice outfits and body-hugging clothes.
It comes mostly with padding and adds good volume to your chest. So, girls have this in your wardrobe and look perfect with your western dresses.
source:enamor.com
If you have a large bust, then full cover bra is just made for you. It provides complete coverage and would make you confident too. If you have a large bust, then opt for the sleeveless dress, tops with thick straps. Women who aren't comfortable wearing demi & balconette bra, they can pick this bra, also never wear this bra with low neckline tops.
Also Check – Importance of Wearing Right Bra Size 
source:prettysecrets.com
For off-shoulder tops, you can definitely try this bandeau bra. It is a strapless, stretchy fabric bra which provides good support and is an ideal bra for small busted women. This style is different from the strapless bra as this is stretchable in nature.
We recommend you to wear this with spaghetti tops, tank tops, boat neck topss where there is no use to show your bra. Make sure you buy the perfect fit, as without straps the fit would be different compared to the strap bra.
source:filmbeat.com
We completely understand how wearing a bra can sometimes be a taxing job, only a woman can understand the heavenly feeling, the minute bra hooks off, don't we? But one of the comforting bras is the bralette, which is soft, light support, and relaxing bra.
They resemble the crop tops and can be worn as it is, with shrug or cape. It would be perfect for smaller cup size and are designed in the non-padded and seamless fashion. If you want a cool like for the summer, you can look for the bralette worn by Shraddha Kapoor in the upcoming film- 'Baaghi'.
source:clovia.com
Exercising or even a light walk can sag your breasts, and if you want a perfect support during your workout, we suggest you to pick the sports bra. Even if you are not a workout person, even then wear the sports bra for perfect support and to prevent breast tissue damage.
For women with bigger chests, get extra support with zip closure sports bra, when you are in no mood to wear a bra, but you have to leave home, then we suggest you wear the sports bra and roam around, you would feel comfortable.
source:bustle.com
One of the most versatile bras is the convertible bra that would have multiway straps which can be used for halter neck, racerback, one shoulder and even boat neck tops. It is a fix-it-all bra and is a must-have bra for every woman. You can wear this wonder bra with your cutout outfits, low back blouses and never worry about your bra doing a peek-a-boo show.
A perfect for your date night one shoulder or low back dresses, where you can keep your mind off from your bra and concentrate on your date. Wear in multiple ways and look fashionable always.
source:myntra.com
Why restrict your fashion quotient only to your fabulous clothing? Look confident from within by wearing a sensual, sexy and dazzling lacy bra. When you wear these, we bet your confidence level would be elevated immediately.
We would recommend this for all bride-to-be and even other young pretty women who want to feel beautiful all the time. Make sure you avoid them with see-through tops or tight fit tops where the laces would be easily visible.
source:clovia.com
Some occasions we do need a bra which would reduce your bust by one cup size. So that's when minimizer would come handy. This bra would be completely helpful when you wear a button down shirt or blouses and have the troubles with the gaps.
Also, women who have lost their bust firmness can definitely look for the minimizer bra which would provide complete support and if you are wearing this under a body fit tee, we suggest you pick a seamless minimizer bra.
Share in your thoughts and comments below about which of these are your fave bras and also if we have missed any of the happening bra do let us know.