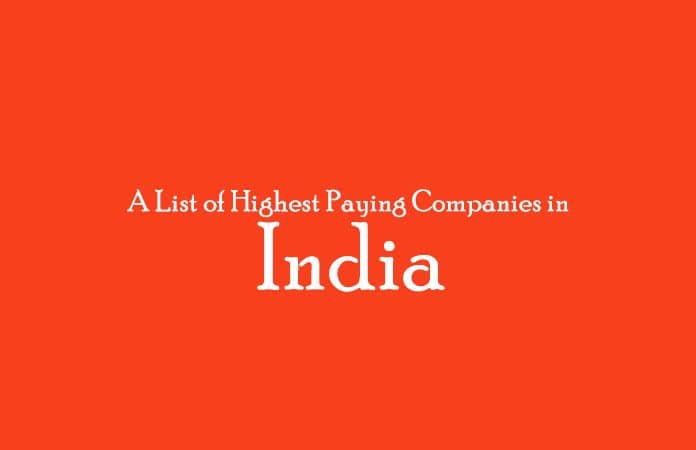 Highest Paying Companies in India
Earning good money is a top priority for most of the employees but, they can get better employee benefits too. Companies like Google, Adobe or Microsoft, has proved that nothing can deter them from offering amazing salary packages along with proper employment benefits to their employees.
Whether it's for an entry-level position or superior level. That's the reason they are still counted as top highest pays companies in India.
If you are curious to know more about companies offering highest salary packages in India, you have landed at the right page. Today we are going to talk about IT companies that are counted among the top 10 highest paying companies in India for their attractive packages and the benefit to employees.
Read: 10 Effective Ways to Manage Money.
Despite the current global slowdown, these firms are not deterred from providing high packages which are of course according to the abilities of an employee. They have created benchmarks for others companies as well.
We have seen tons of companies springing up in the recent years, but these reputed brands have not changed despite an economic slowdown in past years. We are not only giving a brief about these companies, but it is also more a matter of pride and benefits that come with working with the biggest companies in India.
Google
No doubt, Google still ranked on top for its remunerations and innovative practices. Google is undoubtedly the best workplace and highest paying company in India. The median salary for employee less than experience is USD 73,800 pa. Softwares engineers or programmers beginning their career with Google India can expect a salary between 5 and 38 lakhs per annum. This is an excellent range.
Adobe
Its attractive packages landed it on the second position in the chart. Constant reinvention in the company and over USD of 5 billion turnover makes it people's favorite after Google. Entry-level salaries for IT employees are about 7 to 14 per annum. A survey suggests that increment is almost 1.5 times the starting salary.
Juniper
A decade-old company is happily enjoying 3rd position on the chart. With the revenue of USD 5 Billion last year with a salary range from 4 to 23 LPA.
Microsoft
One of the popular IT firms of India, it is designated as 'Magnet for techies in India. It remains one of the top paying software companies of India. An IT employee can earn up to 12 Lpa and software engineer can get up to 10 LPA. Microsoft may be facing competition from other top companies but offering amazing packages to employees.
Intel
One more famous IT company of India. This must be the top paying company as we are using Intel systems every day. Intel chips run nearly 90 percent of the PCs. According to the glass door, salary range of Intel is about 11 Lpa on depending on the grade.
Cisco
For Cisco, India continues to a top performing market. Its revenue was increased by 20 percent last quarter. The median salary of cisco is about 12 lpa for software engineers and 6 lpa for network engineers.
Symphony services
You might have never heard of this company which has recently made to the top highest paid companies. A symphony service is working in the software service industry. The salary range for employees here is 2 to 5 lakhs per annum.
Infosys
Employees are offered a good pay at the initial level, but it may lack in providing job security. However, median income is around 4 lakh to 6 lakh per annum.
CTS
You may not know that employees working at CTS are earning quite good than other workplaces. Thanks to the frequent salary hikes and increments. The salary range for employees here is 3 to 5 lakhs per annum.
Accenture
There are excellent opportunities for entry-level employees at Accenture. This is the reason company attracts new talents and good resources. The salary range for employees here is 2 to 5 lakhs per annum.
The expansion of IT sector globally accelerated growth in various branches spread across the world. To attract good talent, nowadays companies are not shying away from giving good packages to entry-level employees. The IT firms not only just offer amenities but also pay cheque to attract the talent.
Above are the highest IT companies in India that are delivering top packages in India. Undoubtedly these companies have shown a great honesty towards their employees and proving the best benefits to them. Parameters like the number of employees, whether or not the package includes bonuses etc. are also significant.
If you are looking for more information about the process of company or incomes, you must visit the glass door, gives authentic details on companies and also get to know the real functioning of an org through employees' reviews. So, have you got everything you were looking for?