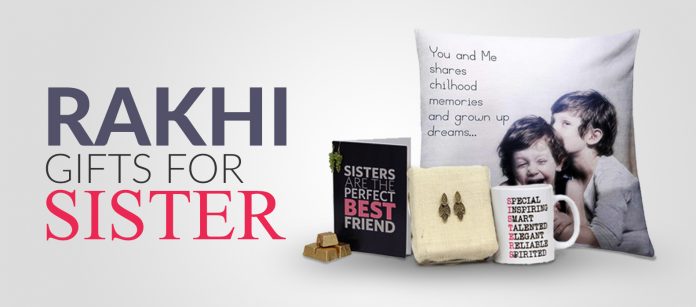 The most beautiful relation in India as well as in the World is of brother and sister. They fight, they love and they tease but still stay together. This is a beautiful bond, when young they love each other as siblings and when they grow up they become friends. This bond is incomparable with any other relation.
So to celebrate this bond we have a beautiful festival of Rakshabandan in India and some other Asian countries. Rakhi is celebrated since ancient era; many mythological stories are associated with this festival.
Rakshabandan as the name suggests is a festival where brother promises to protect his sister for life long and sister ties a thread called Rakhi on the wrist of his brother. And with all these rituals brother gives gifts to his sister and sisters also give them gifts, fruits and sweets.
The most exciting part of this festival for sisters is the gifts. They wait every year for this day. So guys come on make this day more special for your beloved sister with these amazing gift ideas for this Rakhi.
List of 10 gift ideas for your sister:
1.Gift Cards
Gift card is the latest gift option which is available for online shopping at mostly every online shopping site. This is the best and safest option for gifting to your sister. She can buy thing of her choice anytime she wants. What else a girl wants; free shopping is her dream come true…!!!
2.Bags and Clutches
Bags and clutches are never out of fashion, every girl loves them. Nowadays there is a wide variety of bags and clutches available in market. So if your sister is young, school or college going or working in an office or married this is the perfect gift for her.
3.Watch
Watch is one of the most useful gifts for your sister. Girls love fancy, jeweled, designer watches. This is another great gift that your sister will love to have. And a bonus tip for brothers, everywhere monsoon offers have been started so will get a good discount on watches also, so go grab the best one for your sister.

You have a look at these: Perfect Cartier Watch
4. Accessories
Accessories are the desire of every girl or woman. They always need the latest and prettiest one. So buy some beautiful finger rings, trendy bracelets, hair clips and earrings and see the magic your sister will love you more.

5.Beautiful Jewellery Organizer
If you loved the accessory idea then buy one jewellery organizer too. Get a beautiful designer jewellery organizer for your sister to keep the beautiful jewellery in it.

6.Grooming Packages
This is another latest gifting option. You buy for your sister a spa gift package to make her feel relaxed, a pedicure manicure package to pamper herself or complete makeover package to make her look more beautiful.
7.Personalized Gifts
Personalized gifts are in trend now. So print a coffee mug or pillow, T-shirt or watch, calendar or collage, handbag or mobile cover. A wide variety of option is available if you choose personalized gifts. The best thing about these gifts is that these can be memorized for whole life.

8.Creative Hobby Products
If you have a younger sister, school or college going and if she loves crafts then this one is for her. You can find creative and unique hobby product for girls that are very useful and the can learn from it. These hobby products include jewellery making products, handbag making, and many other things.

9.Designer Wears
Who don't like designer clothes? Every girl or women is crazy for clothes. So this would be a great gifting option but only if you know the choice of your sister or take her for shopping and buy her favorite brand clothes.

10.Traditional Gifts
Now this one is the old school idea but still sisters love to have them. Traditional gifts would be chocolate box, favorite sweets, teddy bear or soft toys, greeting cards, flowers, deodorants or perfumes, nail paints and finally money.
Rakhi is a beautiful festival of brother sister love and bonding. Make this day more beautiful and memorable for your lovely sister by giving amazing gifts and surprises.
If you have some more idea for gifting on Rakhi do share with us in your comments below. I would love to add them to the list.
Image Source: Google.com
Also Read-: