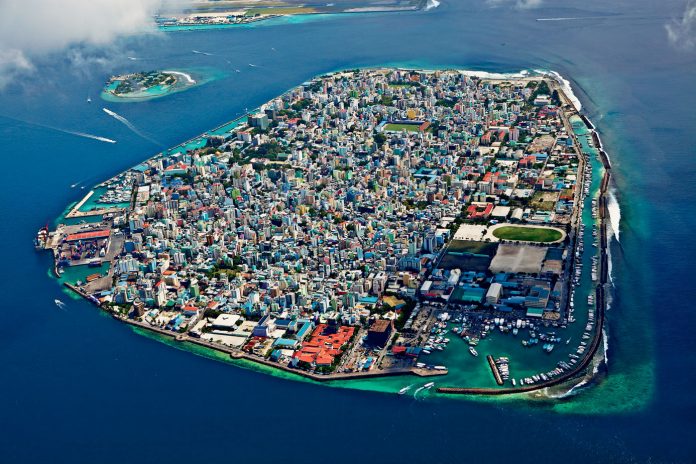 So finally you have the love of your life by your side and you two have finally bounded yourself by the sacred marriage pact, it is time to head out for that first trip together as the official hubby and the wifey. No doubt, choosing a location for your honeymoon can both be highly exciting and confusing at the same time. However, if you choose Maldives to be the place, trust us, you aren't doing anything wrong indeed, the place, for the lack of a better word, is breathtaking.
Maldives, consists of a total of 26 oval-shaped atolls and more than 1000 coral islands. No wonder, it has established itself with a reputation of being one of the most sought-after exotic honeymoon destinations for couples across the world and all that for a good reason. Before booking your honeymoon tickets, you must check Maldives honeymoon packages for a fair price deal too.
The place brims with an astonishingly large number of privately owned artificial resort islands. These islands have been specifically designed to cater and inspire everyone of those who seek a romantic vacation. Thus, Maldives is a natural attraction for the newlyweds across the globe.
For the hopeless romantic in you, Maldives will never seize to present an aura of love, even after being a tiny place as compared to other major Asian destinations. With the sole credit lying on the stunning landscape of the region, awe inducing white-sand beaches, turquoise lagoons, beautiful corals, and chic overwater villas, Maldives puts no wrong foot in nourishing the lover inside you. That aid, even while choosing Maldives as the location, it might become a tough task to finalize which place to have your base at while you are at it.
Here are the 10 Best Maldives Islands to visit when you are finally there:
Malé Island: The compact capital island
By far among the best Maldives islands, Malé is naturally tailor-made for a honeymoon destination. Having the major international airport of Maldives at Malé also aids to its accessibility and reach.  It is said that you should ideally visit this island at the very beginning or the end of your honeymoon in Maldives. Though not exactly known for a large number of sightseeing possibilities, Malé does offer a magnificent experience of the true Maldivian culture.
Places to visit at Malé: Grand Friday Mosque, Malé Fish Market, Malé's National Museum, Tsunami Monument, and Sultan Mosque
For the romantic in you: A dip in Male's protected ocean pool known as the Artificial Beach or enjoy a seaside lunch while indulging in snorkeling and underwater scooter rides is surely something you should do while island hopping trips to nearby islands can always make it worthwhile.
Hulhumalé Island:
One of the closest islands to the Maldivian capital, Hulhumalé is a reclaimed artificial island. It was planned with an aim to decongest the population of Malé. Though it is not exactly one of the most beautiful Maldivian settlements, but it surely does have a pretty coastline and the fact that the lack of tourists makes it a decent option for a honeymoon in Maldives.
For the romantic in you: On your honeymoon, the last thing you would want to see a dense crowd everywhere you go, with much lesser crowds and almost similar  beauty, this makes it one of the best islands to visit in Maldives for honeymoon.
Biyadhoo Island: The Scuba-diving Island
This island is a perfect picture of the Maldivian beauty the world talks about. Located in the South Malé Atoll, Biyadhoo has an abundance of vegetation growth that includes bananas, coconuts, mangoes, cucumbers, cabbage, and tomatoes. However, more than its vast vegetation it is the world class water sports facilities and opportunities it provides that makes the island so very popular.
For the romantic in you: Try snorkeling, scuba diving, and canoe-paddling on this island.
Fihalhohi Island:
Got to be among the most beautiful Maldivian islands, Fihalhohi Island located the Kaafu Atoll of South Malé, is a perfect destination for the honeymooners. Then there is the world famous Fihalhohi Island Resort that is among the most romantic Maldives Island resorts with a number of overwater bungalows to stay in.
For the romantic in you: Well-equipped overwater properties, The Palm Groove, Aeolus Dive Centre, and Anggerik Spa, the pristine island beaches shaded by coconut palm trees are truly romantic.
 Maafushi Island:
This one is for the peace lovers among you. It is a tropical paradise with no comparison; Maafushi Island is located in the Kaafu Atoll of South Malé. Owing to its sparkling ocean waters, glorious resorts, and number of thrilling activities, the island naturally ranks among the best places to visit in Maldives for honeymoon.
For the romantic in you: Snorkeling and catamaran rides, sunbathing on the sand bar in the north, and island hopping tour on boat.
Alimatha Island:
Alimatha Island is situated on the eastern edge of Maldivian land. It has an abundance of crystal clear waters, sun-kissed beaches, aquamarine lagoons, and spa centers. We reckon there could be no other destination that suits your honeymoon like this place.
The Alimatha Aquatic Resort on the island has on offer a number of exquisite stay options. You can choose from beach bungalows to overwaters properties while getting a chance to try a wide array of watersports.
For the romantic in you: Enjoy massage and spa sessions at Ayurvedic massage centers & spas, snorkeling, scuba-diving, boat trips on the azure waters.
Veligandu Island:
Veligandu Island, located in North Ari Atoll, is replete with stunning greenery and shimmering waters that add a pristine and a serene aura to this romantic Maldivian destination.
For the romantic in you: Scuba-diving, snorkeling at the gorgeous lagoons, savor delicious seafood while touring fishing village tours, Duniye Spa of Veligandu Island Resort.
Nalaguraidhoo Island:
A prime attraction of the Maldives, Nalaguraidhoo Island is known for its stunning and glorious picturesque setting and vastness of natural beauty.  Then there is the famous Sun Island Resort and Spa on the island that ensures a romantic stay for the honeymooners. Thanks to Maldives tourism for maintaining these most romantic honeymoon destinations.
For the romantic in you: Stunning beaches, mesmerizing blue waters, lush greenery
Vaadhoo Island:
This one has got to be on your list when you visit Maldives. The Vaadhoo Island is one of the rare inhabited islands of the Raa Atoll of Maldives. It also offers some unique experiences to the honeymooners as well. Without any doubt, the bioluminescence observed in the waters at night, surrounding the island has got to be one of the things that you need to witness in front of your eyes before you die.
For the romantic in you: Witness the 'Sea of Stars' at night while you relax on the beaches.
Villingili Resort Island:
Said to be the best of the best places for honeymoon in Maldives, the Shangri-La's Villingili Resort Island & Spa is located in the Addu Atoll. It offers luxurious villas, white sandy beaches, infinity pool, and spa.
For the romantic in you: The Spa, tropical forest hiking, sandy beaches, various water sports.
You may also enjoy reading –