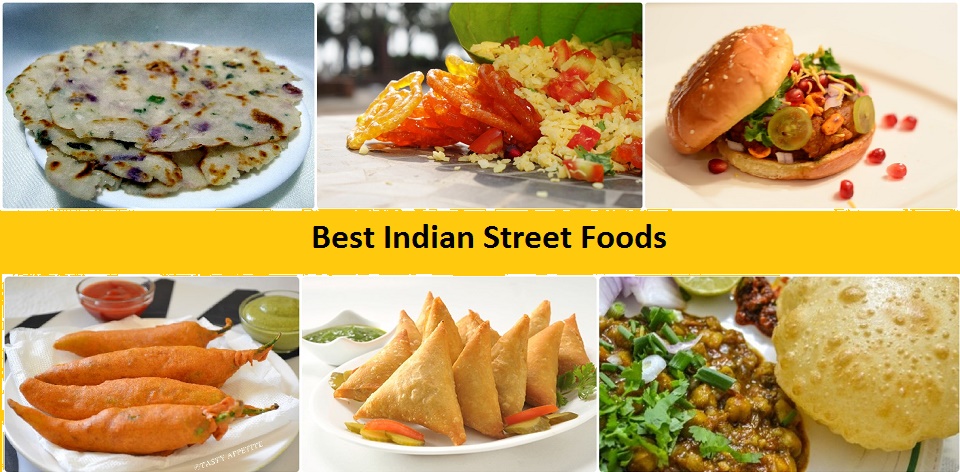 India is not only known for its traditional culture but for the food too. And when it comes to have street food, No other country can beat the taste of Indian street food.
There are more than 30 street food items those are very much liked by Indians globally but we are here with 10 to make you feel hunger for these yummy tastes.
1. Poha Jalebi 
Call them the best substitute for your old school boring bread butter breakfast, Poha Jalebi is one of the most common street foods you will find anywhere in India especially in Central and North Indian regions.
Poha which are rich in iron and carbohydrates makes it an ideal option for your morning food. Accompanying Poha is the Jalebi, which makes the combo even more tasty.
2. Gupchup/Pani Puri/GolGappa
Gupchup aka Pani Puri is one another food that girls can't stop talking about. You prepare them at home or eat them outside at small thelas. Its taste will make you want for more until you run out of space in your stomach.
They are usually served with variety of flavored water. At some places in India, they are also served with chopped onions.
3. Chhole Bhature
Well, if you are looking for a street food that tastes great and also makes you feel full then here's one such Indian street food – Chhole Bhature.
Chhole Bhature is the most ideal substitution for your dull and boring lunch and dinner menu. With the goodness of protein along with tasty bhatures, this dish will make you fall in love with Indian street foods once again. They are made more delightful with sliced onions and pickle.
4. Vada Pao
It's not even half of the list and I'm already hungry. The next on our list of Indian street foods is none other than Aamchi Mumbai's Vada Pav which is often called as Indian burger.
Vada Pav comprises of a fried potato which is stuffed inside a pav served with either green chilies or lal chutney or even with ketchup these days.
5. Dabeli
With a little modification in Mumbai's world famous Vada Pao, the next Indian street food comes straight from the state of sweets Gujarat.
Dabeli is very similar to Vada Pav with a change in its stuffing. The stuffing used in dabeli is made up of spicy peanuts along with baked mixture of baked potatoes and tikhi chutney.
Dabeli can be found almost anywhere in India these days.
6. Kachori
Well, I can't handle this anymore. I need to go out ASAP and fill myself with any of these street foods.
The next delicious food on our list hails typically from Rajasthan. If you happen to be on a tour of Rajasthan then make sure that you don't forget to feed yourself with Spicy and crispy Kachoris. Kachoris are filled in with a mixture of moong daal and fried at a slow flame which makes it crunchier in taste.
7. Akki roti
People from Bangalore would certainly recognize this delicious street food.

Akki roti is prepared from rice flour which is usually served with coconut chutney. Like Chhole Bhature, this dish can be an ideal option for breakfast or lunch.
Other street foods found on the street of Bangalore are Idli Sambhar, Curd rise and Rasam.
8. Samosa
Aah! Just love it. Samosas are the best thing one can have with tea and other beverages.
Stuffed with crushed baked potato and peas and served with green chatni and chillies, Samosas are undoubtedly one of the tastiest dishes found on Indian streets.
9. Litti Choka
Well, there's no way I can forget this mouth-watering dish right from streets of Patna. Litti Choka is very famous among the people of Bihar, Uttar Pradesh and Jharkhand.
Litti Choka is prepared from grinned gram nut and sattu and usually served with choka which is made up of baked potatoes and desi ghee.
Believe me when I say, once you have it, you will ask for more.
10. Mirchi Bajji
Like all other Indian street foods mentioned on the list, Mrichi Bajji also occupies a special place in the heart of every street food lover. Mirchi Bajji which is served at many places these days, hails originally from Hyderabad.
They are prepared from filling made out of peanuts, coconut, and other spices and stuffed with green chilies and chopped onion.
Note – Few images has been taken from Google Images.
Have we missed your favorite Indian street food? Tell us in your comments. We will be love to add that in our list 🙂
Read these blogs too –
Save