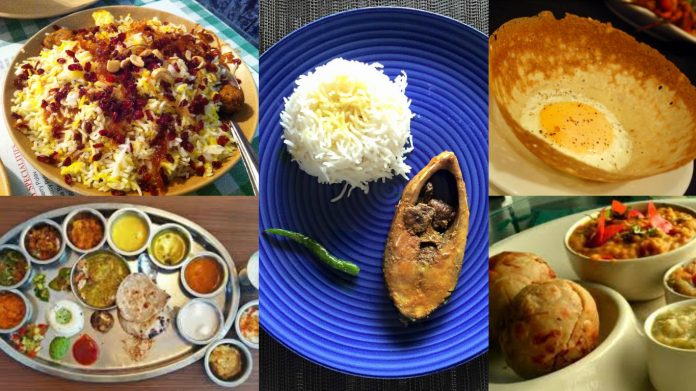 "There is no sincerer love than the love of food" – George Bernard Shaw

Every foodie would agree with the above quote and at Let us Publish HQ we enjoy exploring new cuisines and we have also shared with our readers our reviews about the various restaurants in Delhi. Delhi is famous for its umpteen food variety and there is a plethora of restaurants, street stalls that have created a benchmark for creating mouth watering foods.
But in this post, we are going to share with you the yummy Indian cuisines that are less popular, but are equally on par with the Paranthe Wali Gali, Chandni Chowk fast food, and even Bittoo Tikki Wala! So if you are a food explorer, like us, then read more and find out the yummiest foods that you have been missing and are a must try!

1. Dal Batti Churma at Dilli Haat:
https://www.instagram.com/p/BPHafXuA8QE/?taken-by=letuspublish
At Dilli Haat, you can taste the specialty dishes of each state so don't miss the lip smacking Dal baati churma a special food of Rajasthan. We bet you would want to order more and more!

2. Litti Chokha at The Potbelly Rooftop Cafe:
https://www.instagram.com/p/BOEoY8bg6Cn/?taken-by=letuspublish
Every Bihari loves the ultimate litti chokha and if you haven't tried this yummy dish, then after your work head straight to The Potbelly Rooftop Cafe and savor your taste buds with their iconic Litti Chokha.

3. Maach Bhaat at Mandaa:

Even though Delhi has various Bengali restaurants, but the perfect Bengali style Maach (fish) with steaming rice at the famous Mandala restaurant located at Hauz Khas Village.  

4. Besan ka Chilla at Sitaram Bazar in Chandni Chowk:

Enjoy your Saturday breakfast at the famous Sitaram Bazaar where you get the yummy besan ka chilla filled with paneer and complete your breakfast with a glass of lip smacking lassi!

5. Egg Appam at The Toddy Shop, Hauz Khas Village:

Want hardcore Kerala food? Then stop at the yummy Toddy Shop that lets you try yummy egg appam that would fill your tummy and would leave your taste buds wanting more.

6. Mutton Kheema Pav at Mumbai-Kingdom of Dreams:

Mumbai is famous for Bollywood and its nonstop local train and this restaurant Mumbai-Kingdom of Dreams gives you the complete feel of Mumbai. Visit the Culture Gully and don't miss the yummy mutton kheema pav, they are delicious and much tastier than the vada pav!

7. Arunachali Ngatok at Rosang Soul Food:

The least explored food of the country is the North Eastern food, and if you want to try the North Eastern cuisine, then we suggest you try the Arunachali Ngatok (fish curry) which is outstanding and definitely worth trying at Rosang Soul Food.

8. Yakhini at Kashmiri Kitchen:

In the mood for Kashmiri food? Then do try the yummy yakhhni (mutton dish) at Kashmiri Kitchen. Your mind would numb with its fabulous taste and we bet you would want to revisit this amazing restaurant.

9. Rajasthani thali at Rajdhani:

If you want to pamper yourself with a feast, then give a shot to Rajasthani thali, you would be amazed at the varieties and you can definitely not complete your plate! From 3-4 varieties of bread to top class side dish and desserts Rajasthani thali at Rajdhani is a treat to yourself!

10. Berry Pulao at Soda Bottle Opener Wala:

Don't miss the tasty Parsi dishes at the famous Soda Bottle Opener Wala and the one dish that we recommend is the savoring berry pulao. Decorated with nuts, berry, fried onions and made with mutton, this soul-filling food is definitely a must try.

Have you tried these mouth-watering dishes? If not, then do add them to your list and try these restaurants if you are in Delhi!

Posts that might interest you-
Save