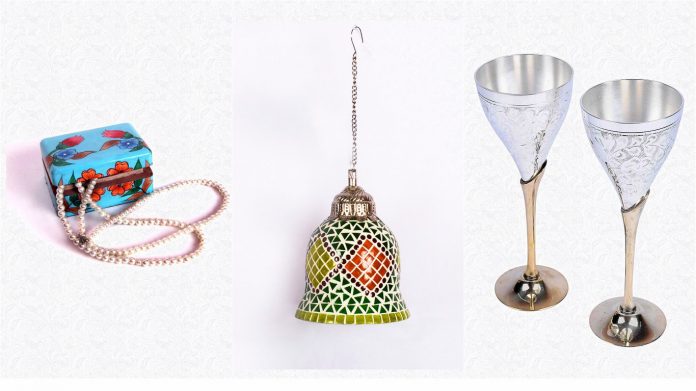 It is the festive season and there are offers raining everywhere, and being the holiday season it is the best time to shop for yourself and loved ones. If you are planning to be the Santa for your loved ones, then trust us folks, shop with our favorite online gifting site Handikart. Remember during Diwali we asked you to shop with them, so now we ask you again to take a look at their gorgeous and lovely home decor and handicrafts. These are possibly the most elegant gift to give any loved ones. And guess what they are having massive 20% sale. But before that, check out our favorite Holiday gifts from Handikart.co.in
Black Pottery:
This would be an ideal gift for all, gift your loved ones a black pottery flower vase, candle stand or even a pen stand and see the way it brings a glow factor to the house. We are eyeing on this lovely candle stand which looks majestic.

Price: Rs. 340

Jewelry box:
Gift your girl or bestie this super cute jewelry box from Handiraft and we bet she will adore your gift choice. This cute floral print jewelry box is compact and perfect for travels, also it is best to keep small earrings.
P.S: A perfect decor for your dressing table
Price: Rs.570

Money bank for your kids:
Festive season brings happiness on a kids face and how thoughtful would it be if you gift your child a cute piggy bank? Not only would it bring a smile on their face, but would even understand the value of money.

Price: Rs. 370

Bell lamp for your home:
Gift this innovative bell shape lamp to your home decor lover, friend and see the happiness in their eyes. We love the innovative look and vibrant colors that will easily warm up the bedroom or living room.

Price: Rs. 920

Vintage wine glasses:
Holiday season calls for celebration and a better way to celebrate the season would be sipping wine with your bestie or loved ones in a classy silver plated goblet?

Price: Rs. 1740

The best part of this site is that presently they are giving 20% off on all their products. How amazing is that? All you have to do is add your favorite products to the cart and at the checkout use the coupon code HND2017HNY to avail the offer. Go be the Santa for someone special this year!
You May also Read-