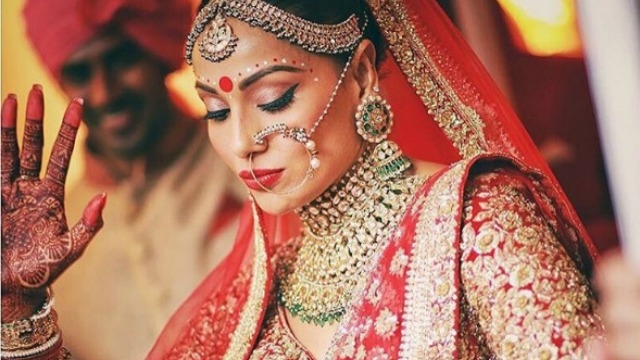 Wedding seasons are the most exciting part of the year. It is the time when brides-to-be are in super nervous and excited mode and with tons of planning ahead the first thing every bride looks for is her wedding lehenga. Wedding lehenga holds prime most importance in her life, it is not just an outfit that will show her gorgeous beauty, but it is also an outfit that changes her from a girl to woman.
Being the most important day in a bride's life, a bridal lehenga should exude happiness, royalty, glamor and nevertheless perfection. So if you are a bride to be and confused on what to pick for your wedding, take a look at our top wedding lehenga styles that has been trending throughout the year.
Be it fashion runways or real brides, these lehenga designs are every girl's favorite and a must have.

1. Off shoulder lehenga:

One of the latest lehenga design for the wedding is the off shoulder lehenga. Off shoulder, lehenga is perfect for the contemporary bride and we feel it is the best way to flaunt your dazzling bridal jewelry. From pastel shades to bright poppy shades with rich embroidery work is sure winner.

2. Floral lehenga:
The next on our list the peppy and happening floral lehenga. It is one of the perfect spring wedding lehenga design and the best way to show your mood for celebration. Go for pastel shade lehenga with bright floral embroidery or patchwork design and you will look like a princess!

3. Trail lehenga:
Nothing can make you look queenly than a trail lehenga. Trail lehenga is one of the latest wedding designs of 2016 and we have seen various brides sporting this look like a dream. So if you want to look like a royal queen, then go grab this style of lehenga right away.

4. Jacket lehenga:
Winter brides can definitely look for the modish looking jacket lehenga. We are in love with the jacket bridal lehenga trend and feel it is one of the best ways to show your modern look to the world.
Tip: wear a front cut jacket over your lehenga choli and it will look fashionably gorgeous.

5. Cape sleeve lehenga:
When it comes to dressing a bride, Indian fashion designers leave no stone unturned. This royal bridal lehenga design is inspired by the west and we are lusting over it. We love the innovation of cape sleeve lehenga which is easy for a bride to carry her lehenga also she would look like a perfect modern bride.

6. Anarkali lehenga:
Give the Mughal touch to your wedding lehenga by wearing the dashing Anarkali lehenga. You can pick from the sheer net, silk or chiffon fabric that will flaunt your royalty in the best possible way. Also, pick the trending gota patti design or heavy embroidery work that will enhance your bridal lehenga.

7. Long sleeve lehenga: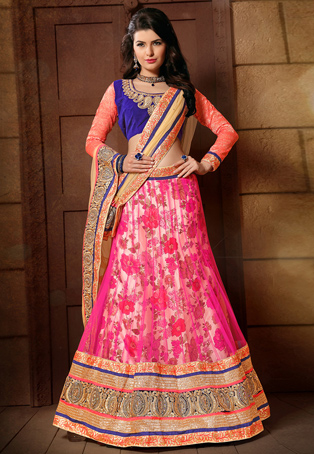 Another ideal choice for the winter brides is the long sleeve lehenga. It adds an elegance to the attire and we believe it is also a perfect way to hide all your flaws. Go for net long sleeve choli and wear a flared lehenga and look like a royal queen.

We hope this post helps you pick the right bridal lehenga for your wedding. Make sure you go with your instinct and we bet you will look gorgeous for your wedding!

Image source: google.com
Posts that might interest you: