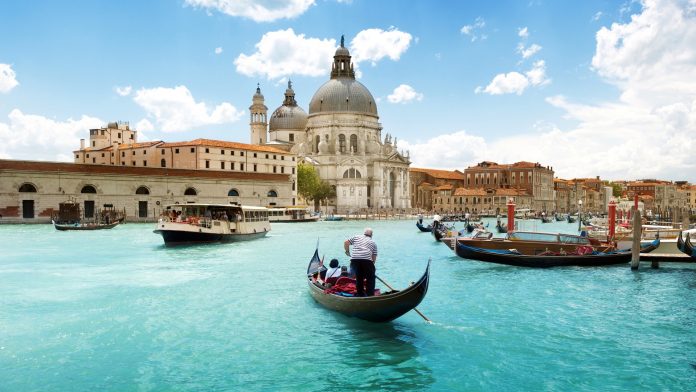 As the wedding seasons began so does the hunt for romantic getaways begun. So if you are someone who is still searching for the perfect honeymoon destination, then we suggest you to look for European countries. The rich culture, breathtaking location, and lip smacking food of Europe will allure the young couples and you would carry the best memories to cherish for a lifetime.
Surprise your queen of hearts or the man of your dreams with a honeymoon trip to European destinations and we bet your better half would be flabbergasted with your thoughtful surprise. We all know how Yash Raj romantic films and songs are often shot at the blissful, enchanting locations of Europe taking us into a dreamland.
If you want a dreamland honeymoon then we bring you top 5 Europe destination honeymoon packages, which are couple friendly, wallet friendly and definitely tranquil and romantic that will set you away from the hustle-bustle life to a quality couple time.
1. Venice:
We had to begin our top destination with the stunning beauty Venice. Venice has the most enchanting water taxis in the Grand Canal (a must visit) and it is one of the most romantic transport in Venice, where the gondola drivers sing and people play violins (a perfect treat for couples).
Do visit the St. Mark's Square, Bridge of Sighs, Doge's Palace, which is considered the best sightseeing destination. It is said that you can view the world's best sunrises at St. Mark;s Piazza, so do wake up by 5 am and get yourself a visual treat.
When to visit: September to November
2. Budapest:
If you love exploring historic sites, then Budapest is the best relaxing, honeymoon destination. Buda and Pest are separated by Danube River and you would love to walk on the Buda side tunnel that offers the picturesque view of Pest. Budapest is listed in the Most Beautiful Cities in Europe and the credit goes to the Renaissance and Ottoman architecture.
Also Read – Travel Diaries: An Exhilarating Road Trip To Niagara Falls
There are some fabulous museums that are worth exploring also you would enjoy sites like Fisherman's Bastion, Hero's Square and many other sites. While you are here you must enjoy the thermal bath, stroll the city to view magnificent statue and enjoy the nightlife with your beloved.
When to Visit: March through May and September through November.
3. Paris: If Europe is on your mind, then Paris is a must visit. Know as the romantic city, undoubtedly you will fall in love with the city. Just a romantic walk on the streets of Paris will bring a charm; in fact, we would ask you to propose your darling once again at the famous Eiffel tower. In case if you are not happy with your post wedding shoot you can have your wedding shoot done here. Check poses for bride and groom.
Musee de Louvre, Palais Garnier, Musee d'Orsay and a plethora of other classic and grandeur places are worth visiting. Don't forget the classic trip on the cruise that is sure to make your trip romantic and unforgettable.
Tip: France uses Euro currency, accepts major credit cards, so before you leave for your trip, make sure you check for the Euro to INR exchange rate as the rates keeping wavering.
When to visit: June to August
4. Santorini:
Enter the world of bliss, romance, and tranquility, because Santorini in Greece is the most romantic getaway of Greece. The minute you step on the island you would be mind blown by the whitewashed buildings, cliffs, and azure sea water. Enjoy the fusion of beaches and archaeological sites such as Ancient Thira, Ancient Akrotiri and don't miss the spectacular sunset view from Thira which is the largest island of Santorini.
Other popular destinations where several Bollywood songs have been shot are Mandraki Harbour, Rhodes Island, Old Town Square.
Munch on the famous fried calamari and feta cheese, skewers and don't forget the iconic gelatos and of course the wine.
When to visit: June through October (for local and International festivals)
Tuscany:
For the love of idyllic honeymoon destination, Tuscany is the best place to explore. This countryside destination with castle wineries, castle hotel, stunning architecture, buildings and mouthwatering Italian food is sure to give you a sense of pleasure and serenity.
When you visit Tuscany, it is impossible to miss the wonders of the world- Leaning Tower of Pisa. Also, you can explore the beautiful cities like Siena, Lucca, Florence and have adventurous hiking in Cinque Terre. Do visit the wineries to get the taste of the finest wines and if your stay is for a longer duration we ask you to involve in a fun filled cooking class.
When to visit: April- May and September- October
Image Credits – 1, 2, 3, 4, 5
Hope the mentioned popular honeymoon destinations of Europe are romantic enough to make your honeymoon more romantic.
Read More-