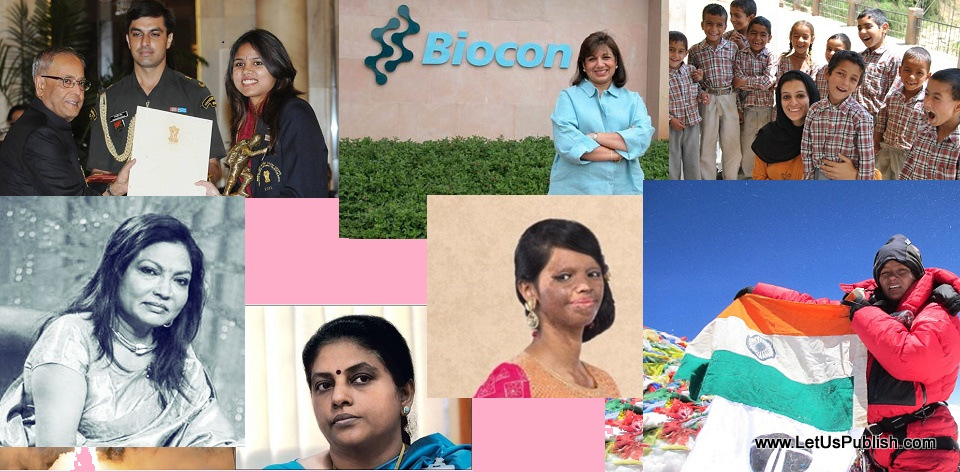 There is no force equal to a woman determined to rise. A woman is the most beautiful creature of God and is the real architect of the society. It is difficult to sum up the strength and beauty of a woman in few words, however she is the epitome of strength, perseverance, compassion, stronghead, ambition, emotional, ethereal and forgiveness. If a woman is determined to follow her dreams, then there is no force which can ever stop her.
Though it is believed that woman came from the rib of the man, to be equal with him, to be cared and loved for who she is, but for eons a woman's status in the male patriarchal society has been never equal to the man. There has been a huge cry for women empowerment across the globe, yet India is a powerful country hasn't been able to curb the women empowerment greatly.
However winning against the odds, are the powerful women who have taken charge of their life and written their own destiny beautifully. LetUsPublish salutes the inspiring women of India, who give us hope, courage and confidence to chase for our dreams and make them come true. So the strong ladies of Generation Y, we present you our top 10 inspiring women of India who give a strong message that we should live our dreams and fight all the odds to be empowered.
Bhakti Sharma
Hailing from the City of Lakes- Udaipur, Bhakti Sharma is truly a woman of steel and honour. At the age of 25 she became the first Asian and the youngest girl to swim 2.3 km of the coldest Antarctic Ocean in 41 minutes- a true heroic personality. She has swum in all the 5 oceans of the world and has been awarded for her adventurous heart the Tenzing Norgay National Adventure Award in 2010. We are proud to have a bold and strong headed woman like Bhakti Sharma in our society.
source: yourstory.com
Tessy Thomas
The Agni Putri of India, who makes every woman feel proud about herself, Tessy Thomas is a well-known face of DRDO, who became the first woman to lead a successful missile project "Agni V" in India. She is fascinated about her work at DRDO and shares her story that she has never felt gender discrimination at work, which proves that your hard work and goal-oriented mind can never pull you down.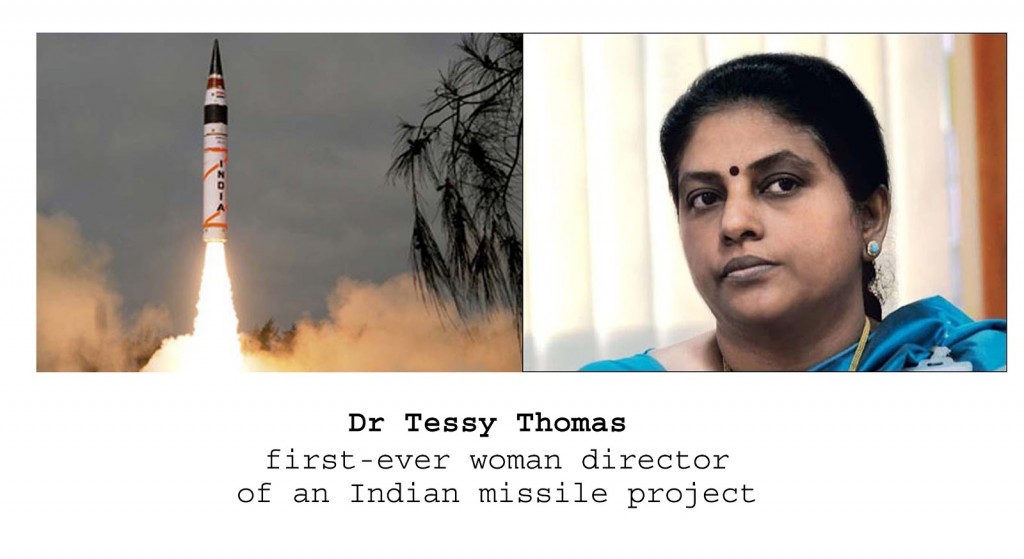 Laxmi Saa
Where the young girls across the globe are depressed about their looks and body shape, we have a courageous acid attack survivor Laxmi Saa who had a terrible family condition and suffered from acid attack that distorted her face and life. However, she fought back her weak situation and now is The Face of Courage of Viva N Diva apparel brand. She works with Stop Acid Attack campaign and was awarded prestigious International Women of Courage Award.
Mary Kom
"Don't let anyone tell you, you are weak because you are a woman", famous lines of MC Kom. Mary Kom needs no introduction, the pride of India, who has challenged life and won it inspiringly. A mother of two and 5 times world boxing champion, tells us never to give up and to always have belief in oneself.
She is an epitome of will-power, strength and courage, a lady who has never given up the path of hardships and inspires every lady to stay focused and strong willed. We salute the Arjuna award winner and tell all our readers to be inspired by her.
Mumtaz Shaikh
It is said that when you believe in yourself, you can just make dreams turn into reality. Mumtaz Shaikh, a strong activist of "Right to Pee", who works hard for the welfare for the women is one of the inspirational women in the BBC's list of 100 most inspirational women.
She fought her challenges bravely and got 96 toilets constructed in Mumbai, which women can use freely and has pursued in making the Maharashtra government to set aside Rs. 50 million to construct female-only urinals in the city. She has won Daughter of Maharashtra award and is set on the mission to make a difference in the lives of the women residing in Maharashtra.
Arunima Sinha
It doesn't matter what you achieve in life. What matters is how those achievements make you a better person. Firstly we would applaud her for her resilience, courage and never-give-up attitude. A national volleyball player, Arunima Sinha is the first female amputee to climb the glorious Mt. Everest. She lost her leg, when a gang of goons threw her out of a running train, when she withstood against them.
She has won the Padma Shri Award and many other accolades. Presently she runs NGO school for disables and quotes "We chart our own destiny. It is my firmest conviction that luck will favour those who have the drive and the tenacity to win."
Kiran Mazumdar-Shaw
The founder and chairperson of biotechnology company Biocon Ltd, Kiran Mazumdar is in the list of 100 Most Powerful Women of Forbes. She is the recipient of Othmer Gold Award 2014 for her splendid work in the field of biology and chemistry and also is the chairperson of IIM-B. She quotes her vision at Bicon, "One of my objectives when I started Biocon was to make sure that I create a company for women scientists to pursue a vocation."
Source: YourStory
Tania Sachdev
The queen is the powerful player in chess and Tania Sachdev proves it right. Strong headed and focus defines her personality, at the age of 8 she won her first International title in the mind game chess. She was awarded the prestigious Arjuna Award and has even won the titles of International Master and Woman Grandmaster. According to the FIDE she is one of the top 100 chess players in the world.
Kalpana Saroj
The original slumdog millionaire, Kalpana Saroj is the CEO of $112 million business. But her success road isn't bed of roses, the Dalit lady was born in poverty and due to the odds of society she became a child bride and was painfully abused, thrashed by her husband's family.
Rescued by her father, she left for Mumbai and started working in a garment factory and with grit, perseverance and a superhuman ability to have faith in yourself, Kalpana Saroj started her own Boutique, furniture and Parlor Business joining the league of successful business women. She is recipient of Padma Shri award, and says, "If you give your heart and soul to your job and never give up, things can happen for you."
Sabbah Haji
The director of Haji Public School set in terror prone Briswana located at an altitude of 7100 ft mountains of Doda in Kashmir, had a flourishing job in Bangalore, but her determined mind to spread education to the children of Jammu and Kashmir. She left her job and started teaching in two rooms of her father's house and in five years she expanded her school which now has 200 students and no dropouts. She was awarded L'oreal Paris Femina Award 2013 for Education.
So, folks, we believe every woman has a dream inside her that would make an inspiration to others. Hunt for your dreams and paint the world colorful. Share in your views and comments about our top 10 inspiring women.