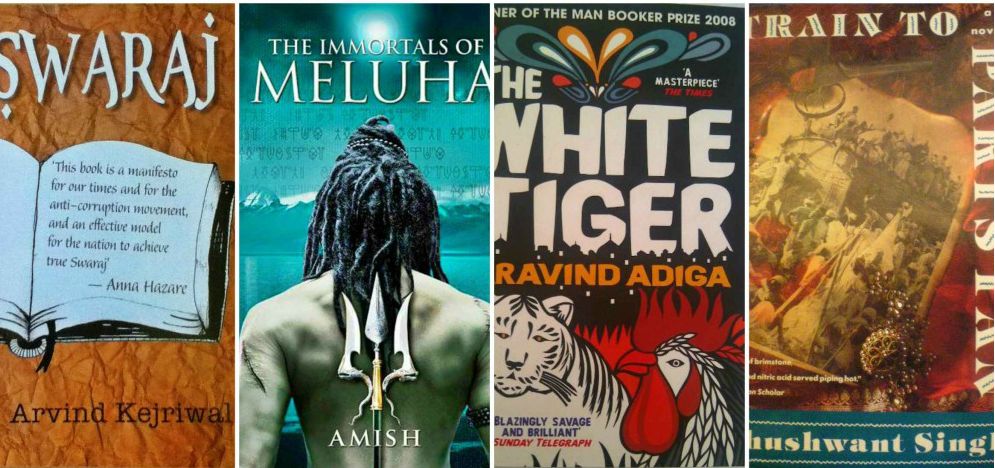 Indian writers have excelled in Book writing, like every other field. There are several books which match and describe our past and present.
There are numerous books written by Indian authors which are worth a read, so here we present you worth read top 10 books by Indians which will surely influence your life and thinking.
1. Swaraj by Arvind Kejriwal
Swaraj means self rule and this book is written by a man who changed the face of Indian politics.
Arvind Kejriwal along with few others completed this book which shows not only the concern over the current problems of Indian politics and administration but also the ways to reform & rebuild it.
The book is worth a read to know about the current system of India.
2. The Immortals Of Meluha by Amish Tripathi
The first part of the Shiva trilogy presented by Amish Tripathi, is a fictional novel: based on mythological god Lord Shiva, who has been portrayed as a normal person, but a fearsome warrior, savior of mankind and a true lover.
He comes to Meluha with Nandi in search for a better and peaceful life for his tribe, but after drinking somras, His throat turns blue and he becomes the Neelkanth, savior of the mankind. And thus the journey begins
.
 3. Five Point Someone by Chetan Bhagat
The first book by Mr. Chetan Bhagat, created a revolution by describing lives of 3 engineering students doing things they were not supposed to do and ending up becoming five pointers (lowest passing marks).
Although this book is about their failure in academic life, but the author has brilliantly shown up their victory in understanding and living the life to its fullest.
4. The God of Small Things by Arundhati Roy
The God of Small things written by Arundhati Roy made her listed in winners of Booker Award. This fantastic book is about two fraternal twins of India. The book is an all rounder as its socially, politically, administratively motivated.
The books shows how the smallest and negotiable things today change the course of life journey. A very interesting book to read.
5. The White Tiger by Aravind Adiga
This Booker Prize winner debut fictional novel by Arvind Adiga is a mind-blowing story of a driver, who from being a bonded labor, becomes owner of a multi-million cab service providing company in Bangalore by taking advantage of the situations and killing his masters.
 6. Train to Pakistan by Kushwant Singh
Based on the time of partition, the story revolves around a village on the border in Punjab, where time-table is set with the passage of trains. There is a perfect harmony between Hindus and Muslims in the village and they are totally unaware of the tense conditions in the whole country.
But everything changes with the change in timings of the train one day.
7. Shadow Lines by Amitav Ghosh
The Shadow lines by Amitav Ghosh won the Sahitya Akademi Award because of the touching content. The book is all about a boy who is born in Kolkata but then moved to Delhi and London too and how his feelings for girls changed with time.
The books also covers the riots in Dhaka, Bangladesh as well as World War 2.
8. A Suitable Boy by Vikram Seth
A suitable boy by Vikram Seth is one of the English novels with maximum pages. This book revolves around a girl and her family who are looking for a suitable boy for her marriage. The suitable boy is a novel based on the time of post-Independence of India when the family is bound  a lot with social issues like caste, religion, age, community etc.
The book also reveals how the girl feels for different boys under different circumstances and the problems faced by the characters of the book.
9. Cutting For Stone by Abraham Verghese
Cutting for Stone is written by Abraham Verghese which is one of the highly applauded books till date. The book revolves around the Ethopian twin brothers who lost their mother while birth and faced abandon-ship by their father. The twin brothers were raised by an Indian couple with medical background.
The twins get later separated because of their different activities and then meet in a tragic way. Its one of the best books which is both politically as well as medically motivated. Even Barack Obama praised this book.
Note: Verghese studied in India but was born in Ethopia and is having nationality of America.
10. Fasting, Feasting by Anita Desai
Fasting,Feasting is written by Anita Desai. The book has been nominated for Booker Award too. The book revolves around a girl and her family. The book shows how the girls sacrifice her life for her family. The book also covers the cultures of India and America when characters of the book visits different countries.
These all books are wonderful and one must read it for once. Readers are requested to suggest more books in our comment section.
Also Read –