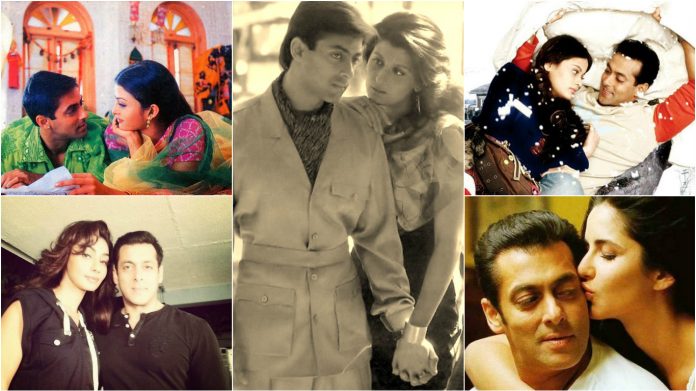 It is the birthday month of our favorite eligible bachelor of Bollywood, Salman Khan and we thought to reminisce his colorful dating life. Salman's love life history has been long and he has dated some of the top actresses, models of India and has always been in the news for his amazing love life. 
From Sangeeta Bijlani to Lulia Vantur, Salman Khan has dated some of the gorgeous women and today we are reflecting upon his incredible list of beautiful girlfriends:

1. Sangeeta Bijlani:

It was Salman Khan's sister Alvira who was the cupid between Salman and yesteryear famous actress and Miss India Sangeeta Bijlani. They had dated each other for a real long time and were almost to tie the knot but it was Sangeeta Bijlani who called off the wedding. Reasons are that Salman Khan was guilty of cheating her, yet after all the drama Sangeeta is still close to his family and the irony is both are still single!

2. Somy Ali:
It was back in the 90s when Salman Khan was smitten by the Pakistani actress Somy Ali and it is rumored that it was Somy Ali that broke the wedding between Salman Khan and Sangeeta Bijlani. However, Somy Ali and Salman dated for a while and it is believed that it was Salman's infidelity that brought them apart.
Yet after a decade, they still remain friends and Somy Ali was even spotted with Salman Khan at the shooting of the film Ready. He even supports her NGO.

3. Aishwarya Rai:
The most talked heartbreaking love story of Bollywood on which we can even make a film is Salman Khan and Aishwarya Bachchan. It was the film Hum Dil De Chuke Sanam that took away the dil of Ash and they started dating since then (1999).
However Ash parents never approved their relationship and like a perfect Indian girl, Ash didn't want to go against her parents and then started the abusive relationship where Salman would hit her and create scenes at the set of Ash's films.

Aishwarya Rai then decided to end the relationship and things turned sour between them. We believe Ash is the only ex-girlfriend who doesn't have a cordial relationship with Salman.

4. Sneha Ullal:
Do you remember the disaster film Lucky No Time for Love? The film starred Salman Khan and Sneha Ullal and it is believed that the two souls were much in love. Back then Sneha Ullal was called the lookalike for Ash and a replacement of Ash for the broken heart of Salman Khan. However, the relationship hardly went any further and now they both remain friends. Sneha now works for the Southern region films.
Click here to check the bollywood celebs lookalike.

5. Katrina Kaif:
After Aishwarya Rai, we guess it was Katrina Kaif that ignited Salman Khan's heart and soul. Though both the lovebirds never admitted to the world that they were dating each other, but the growing closeness was evident that something was brewing between them.
They were seen in several films together and are still called a hit on screen Jodi, however, it was the film Ajab Prem Ki Gazab Kahani when things turned not so great between Ek tha Tiger stars and yet after all the heartbreaks both remain great friends. In fact, Kat is almost like a family member of the Khan parivaar.

6. Zareen Khan:
Just like Sneha Ullal, Zareen Khan was called the lookalike of Katrina Kaif and there were rumors that Salman and Zareen dated each other. They worked together in the film Veer and even did an item song Character Dheela from the film Ready. She credits Salman for giving her a break in Bollywood and denies any kind of romantic relationship with him!

7. Claudia Ciesla:
Nothing goes away from the eagle eyes of media and when Salman was spotted with the German model and actress Claudia Ciesla at various public events, the world thought that Salman has now found his new love. However, things never brewed between them and yet Claudia is called Salman's brief time girlfriend.

8. Mahek Chahal:
Bigg Boss contestant Mahek Chahal, who appeared with Salman in Wanted is rumored to have a relationship with the Khan of Bollywood. And things got fishy when Salman openly admitted that he was biased towards her on the show. Now that's interesting, though nothing solidified between them and yet they are tagged more than friends relationship.

9. Daisy Shah:
Guess whichever actress gets a break in the industry due to Salman Khan get linked up with him! Yes, another lady who got recognition in the Bollywood industry is Daisy Shah and it is believed that she and Salman have dated, but Daisy calls him a mentor, guardian and a person to count on.

10. Iulia Vantur:
Salman and his love for foreign land women never seem to end. It is rumored that Salman's latest girl is the Romanian actor-anchor Iulia Vantur. They have been spotted together on various occasions and we wonder if she is the one?
Read more about our Fav. Salman –
So do you think Salman Khan would ever marry? We are happy to have him as an eligible bachelor of Bollywood, what's your view? Share them in the comments below.

Save