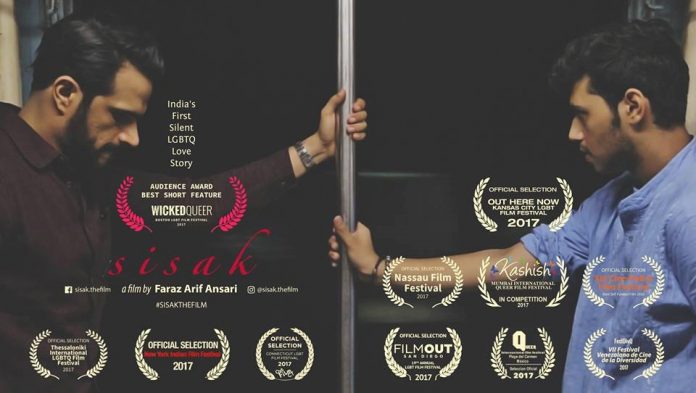 What is the essence of any silent film? Is it an entwining of movement of physicality of the performers combined with coherent of the scenes? Or is strong, pronounced expression being portrayed by the actors just in the right balance so as to avoid any overdramatic or any caricature effect?
Sisak started as a thought post-December 2013 ruling by the Supreme Court which basically canvassed into a short film of twenty minutes three years. Careful writing so as to not project the members of the LGBTQIA community as pitiful and as objects to continuously empathise with along thinking of the name of the film made it an arduous ride.
Of course, production expenditure and backing out of actors during the last stage stretched the time and patience of the director, writer and producer Faraz Arif Ansari.
Nonetheless, when this film first was brought into the limelight to mainstream Indian audiences by actress Sonam Kapoor through her Facebook and Twitter feed, it caused ripple in the indie film circuit and especially the Indian LGBT film community. For here was a film that any member irrespective of gender, class and sexuality could relate to.
A silent film means no language barrier and its setting in a local train as well as the background of the characters was accentuated by their varied dress attire: one in a proper formal attire and the other in a traditional Indian attire. It erased the class and language boundaries even without knowing it. The storyline erased the sexuality and the gender demarcations in the sense that any person who has been in love or wants to be in love could relate to this.
With zero physical contact between the characters, it created a sense of turmoil and angst in the audience just like the characters. You could feel the urge to touch the character, not just physically primarily, but you wanted to feel and have that visceral connection with those characters. The culmination scene in which the immobile objects are used by the characters played by Dhruv Singhal and Jitin Gulati being grasped by them to express their love and their yearning to finally manifest their feelings but being unable to do anything about it takes your heart out.
The director's mother suggested this name because that's what she felt when she saw the movie for the first time. And so did we.
Next screening is in Bangalore, July 19th at Church Street Social. For more information about the film, head on to –  https://www.facebook.com/sisak.thefilm/
You may also enjoy checking –