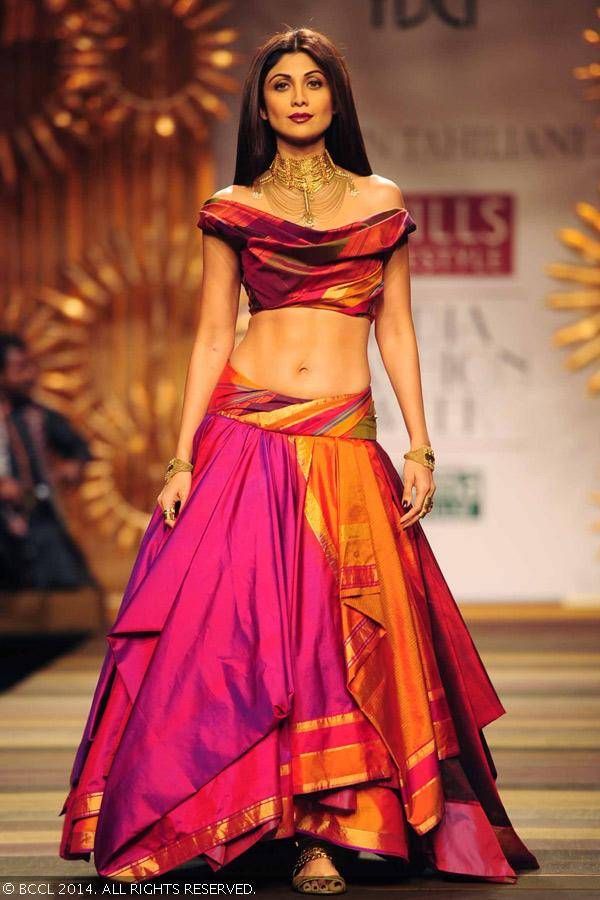 An outfit which displays epitome of elegance, feminism, sophistication and our true Indian culture is Saree.  In older times saris were designed in a rigid manner, that why once all the hoopla is over, thousands worth of outfit gets packed-never-to-see-the-daylight again. With new design coming everyday old silk sarees have become outdated, we do not find them attractive anymore, or they are too bling.
They lie in our closet for years and occupy space, in the hope that we may wear them someday. Moreover, just the mere thought of giving your mom or grandmother silk saree away makes us nostalgic.
However, without having to part with them, one can create the most wonderful items from these six yards of silk. Get ready to shop in your own wardrobe and revamp your old silk saree:
Skirts
Here's the first idea that comes to everyone's mind! Long skirts, wrap arounds in silk fabric looks elegant and stunning. If you want to show your beautiful skin in silk go for mini skirt! Trust me; it will retain all the charm and beauty of silk while being trendy.
Kurtis or Anarkalis
Another stunning idea to revamp old silk saree – Get an Anarkali or stylish kurti stitched. Get creative with laces, mirror or some patch work and wear them with leggings or denims. You need the right colour mix and loads of attitude to carry silk outfit!
Dress
For traditional gatherings, where you want to look different but still want to feel connected to your roots get old Kanjeevaram silk or Banarasi silk saree transformed in to a classy dress. Make sure to choose vibrant colours or printed patterns to look stunning.
Must Read – How To Drape Saree In Five Stylish Ways
Lehngas
Old silk sarees can be beautifully transformed into a Lehenga. You can also choose to go for half saree without much of alteration and hard work. Dupatta can also be made from six yard or you can choose to get a beautiful one.
Have you seen?  Best Bollywood Bridal Looks From AICW 2015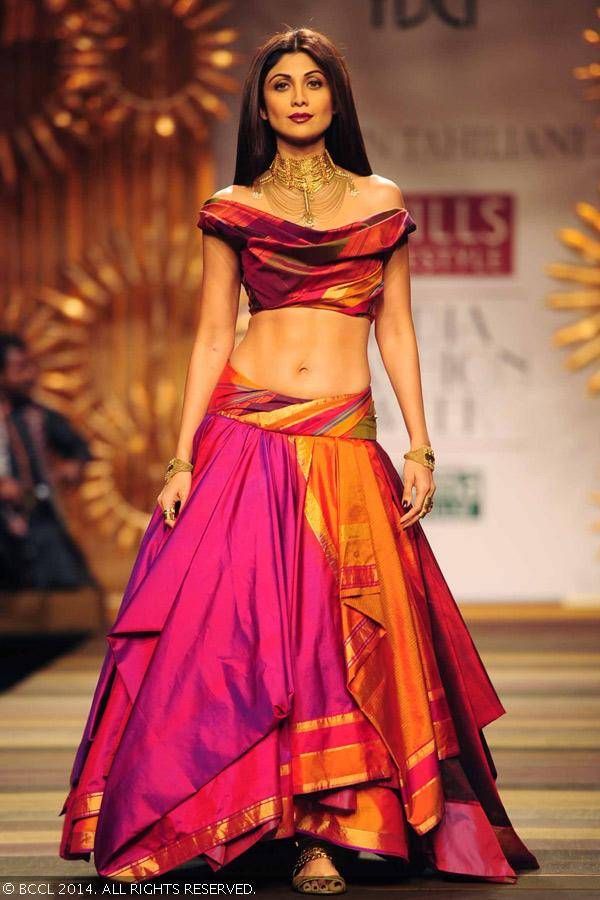 Pants
If above clothing doesn't work for you, go for stylish straight silk pants or palazzo pants from sarees with thick zari border.  Team these pants with your favourite crop top and walk like a diva!
Dupattas
If you don't want cut and retain the charm of old silk sarees use them as dupatta or stole. Kanjeevarams make lovely heavy dupattas. Team up with plain kurti and leggings and let your silk dupatta do the talking!
Must check –  Sonam Kapoor Stylish Looks in Sarees, Suits and Off- Shoulder Dresses
Jackets
A bright printed full sleeves open jacket is one of the best way to revamp old silk saree. You can go for long jacket kurtis with palazzos or leggings. Cutting out short jacket is also a good option to look cool and trendy.
Scarfs
Instead of purchasing pricey silk scarfs from stores why not to create one at home?  Decorate them with some nice hangings and team them with any outfit, any climate!
Do Check – How to Select a Saree According to Your Body Shape
Accessories
After you have designed your outfit from silk saree, don't throw the pieces away. The number of accessories you can make out from silk material is endless!  Mobile covers, bags, decorated jewellery, head band, bandana- these can be the best accessories you have ever had.
Another interesting idea is to use them as gift wrappers. Ditch paper wraps and tie your gift in piece of old saree to add personal touch.
Home Decor
If you want to display your creativeness with silk saree- home decor is the best hit. You can make curtains, pillow covers, cushions, vase cover, bed covers and many other decor things. All you need is time, patience and stitch work!

So, next time whenever you see old silk saree, you know what to do! Look around, search internet, expand your horizons and wake up the sleeping creative artist in you!
Note – Images are taken from web.
More Trending Stories –