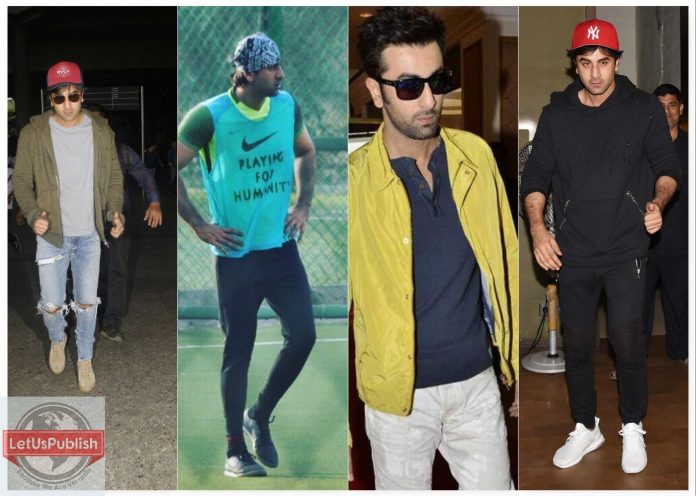 Even if Ranbir Kapoor isn't a fashion icon to some people, he definitely is a style inspiration. He is usually spotted wearing casual and relatable pieces and still manages to make any rockstar jealous.
We follow his style mainly because he sports a relatable wardrobe. His must haves includes a leather jacket, a good ol' denim jacket, well-fitted jeans and a cap. What we love more than anything is that his outfits can be replicated even by commoners.
Let's dissect some looks which you can pull off effortlessly or can suggest to the man in your life. *wink*
Airport Spotting
Celebrity airport looks makes us drool so much. I wonder when will someone come up with the idea of airport-themed fashion show. Meanwhile, bringing you one more airport look which is just beyond perfection.
It is very important to not overplay with colors this olive green jacket paired with beige suede shoes (They are a must have for every guy) will work for just about anyone and if accompanied with a ripped (at the right places) jeans it can fish so many compliments for you.
Play Boy Look
Rocking a sporty outfit is tricky but it can be done. Thanks to Ranbir's innate love for football he can coach you in fashion as well. The biggest tip is to play with colors. Why we picked this look is that we rarely get to see a neon jersey, neon T-shirt, bandana, tracks tucked under socks *mind blown* in one look.
Casual Treat
This look is solely to put light on the fact that a pair of white sneakers can transform your outfit. While we are on the topic of must haves, do yourself a favour and find a well fitting black jeans.
Gladiator In 2017
We aren't advertising his shades but rest all screams 'Fashbulous' to us. Experiment with shoes and make sure that while you are choosing your jeans you don't go gaga. Don't pair the extremely contrasting colors together, bottoms can be of the same color pallet but a darker shade. If it is high-top shoes like the one he is wearing then you can in it too.
Suit It Up
Upcoming office event? A formal college meet? Fancy date? Just replicate this look and thank us later. Ranbir is a fan of jackets and we get why! He is carrying this checkered blue blazer jacket with utmost ease. While buying formals you don't have to look for the jacket and 'matching' pants.
Our suggestions are; black and blue ( Exhibit A: Ours truly Ranbir Kapoor), Navy jacket and beige khaki trouser, Grey jacket with navy trousers, Black jacket with gray trousers, white bottoms with colored jackets. You are welcome. Nothing matters as much as fitting does when the topic is SUITS, a gender-fluid tip BTW.
Style Goals
What we need more than air (exaggeration!) is for Ranbir Kapoor to start a clothing line dedicated to Jackets. Since he has a lean and tall body jackets suit him the most. Jot down, boys. Men can experiment with colors but keep the thumb rule in mind; only one eye-catching piece in an outfit.
We know you can work these outfits equally well. Leave us your favorite Ranbir Kapoor's look in the comments section below.
You may also enjoy –
Save