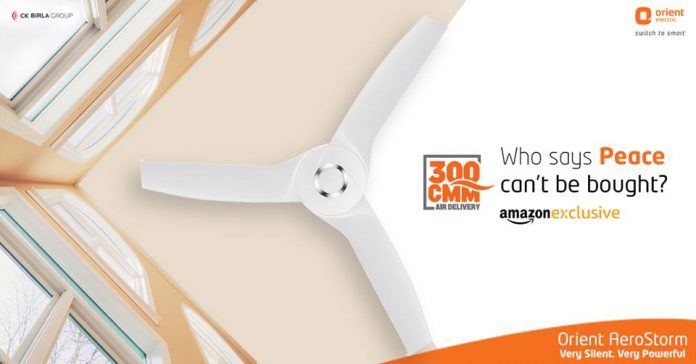 What shivers during the winter is not the chill but a thought of long summers. But thanks to improved technology and continuous innovations for bringing advanced solutions to assure maximum comfort with style. Recently I was invited by the Team Orient Electric where this brand launched the all new #Aerostorm fan under its aerodynamics inspired Aeroseries for summer 2018.
Innovative Aerostorm is all set to make your summers sweat-free, cool, and comfortable. It is a successor to the previous model of the same series, Aeroquiet. This elegant looking fan caught everyone's eyes.
It was very much aesthetic in its looks, making a bold statement that it is not an ordinary ceiling fan.
It has a sweep size of 1320mm and throws an impressive air delivery of 300 CMM with almost no sound, thanks to its aerofoil design and use of winglet technology. #SilentStorm.
Powered by an 18-pole motor, it ensures one feels the air across the room.
The term silent storm is given to it for a reason. This fan being very powerful does not make any noise like other fans. Instead, it is as quiet as a lamb. It makes negligible noise while functioning.
The blades of Orient Aerostorm are rust free and are made of high-quality glass filled compound ABS. They are also easy to clean and bend proof.

Today's homeowners are more empowered and demanding than ever before and they seek smarter solutions that can spruce up their home décor. If you are looking for something to add drama to your ceiling, you can never go wrong with the Orient Aerostorm. It is sure to become the focal point of your bedroom or living room, with its eye-catching aircraft-inspired looks and not to mention, the superior air throw without any noise.
The only thing I missed here is a remote control, however, some of the other models in Aeroseries come with remote control for ease of operation. All in all, Aerostorm is a must have for those who are looking for something different and elegant for their fifth walls.
The price of the fan is just ₹ 5,990 and right now the company is selling it at a discounted price of ₹ 5399 on Amazon India. There is also a choice of buying it at a zero interest rate EMI. Therefore, I got nothing to worry about the heat of the summers. The unique blend of style and technology – #SilentStorm is here!
Link to buy – http://www.orientelectriceshop.com/
You may also love to check these Orient Products –