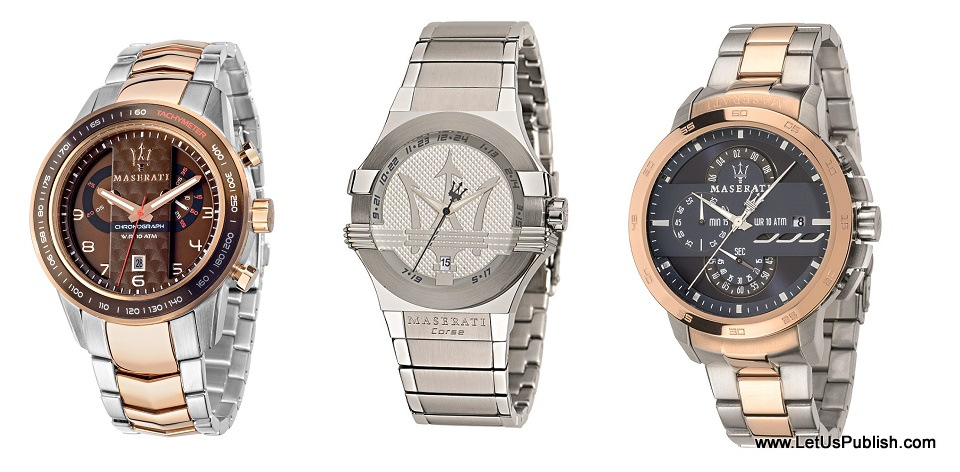 Skybird Inc, India's reputed watch distributor, has got sole exclusive marketing and distribution rights to launch one of the world's most sought after brands, Maserati Time, in India. The premium brand of watches will be exclusively marketed and promoted by Skybird Inc across popularcities in India.
Maserati Time comes from the legendary house of Maserati cars and prides itself on its long and glorious heritage. Exuding the heritage of Maserati cars and its exquisite features, Maserati watches provide an elegant and timeless product with a sporty and contemporary touch. The brand values of automotive world have been distinctly brought to the watches by Maserati Time. Iconic signature details reflect the brands DNA and the unique Italian style, recognisable all over the world for a sporty-elegant product.
Maserati watches have been meticulously categorised in three collections namely Easy to Wear, Iconic & Swiss Made categories. While the Easy-to-Wear collection uses discrete elements which recall Maserati world, Iconic collection reflects signature details reproduced on the watch to communicate brand's ethos. Swiss Made collection are exclusive time pieces having swiss made movements and made with superior swiss techniques. The collections are further classified based on the specific features breathing Italian racing pedigree as well. Corsa, Ingegno, Pole. Maserati Time watches are the ideal accessory for men and women who love Italian style and Italian sports cars. The characteristic Trident logo is represented in the second's hand. The Maserati watches are priced between Rs. 8000/- to Rs. 65000/- (www.mtimewatches.com)
Expressing her views, Ms. Soniya Daswani, Head – Business Development, Skybird Inc. says, "We, at Skybird Inc. are extremely happy to partner one of the world's highly reputed watch brands in India. With Maserati watches entering India, we are sure that the Indian watch lovers and enthusiasts will enjoy the perfect blend of appreciating fine time pieces and its automotive connection with the legendary brand."
Checkout the exclusive pics of Maserati Time watches
Do share your most liked watches from above collection, we will be happy to hear more from you about above collection.
You May also like-