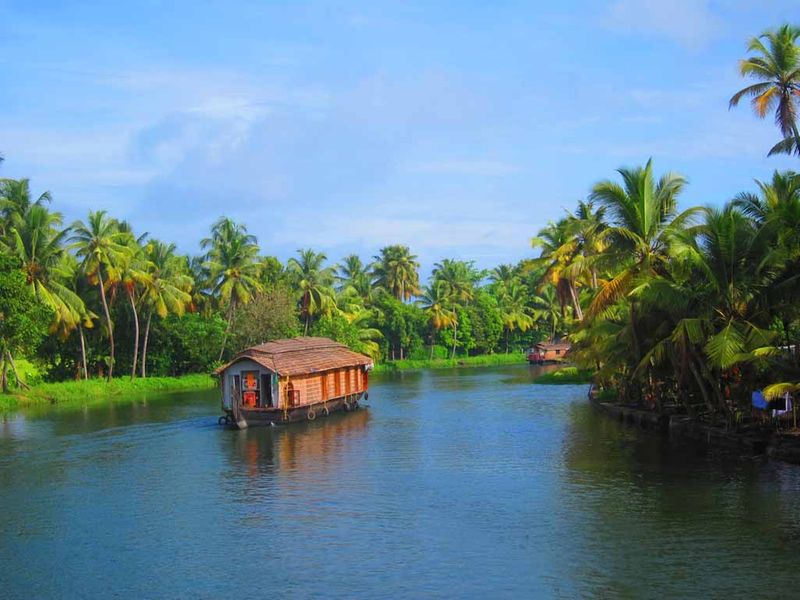 If your city's heat tempts you for an immediate weekend vacation or if you are planning a summer vacation then we ask you to visit the heaven on earth- Kerala. The balmy shores, majestic falls, captivating wildlife and romantic hill station is a perfect dose of vacation. Also it would be truly an escape from the scorching summer heat.
The moment you enter the state, you would get a relaxing vibe due to its splendid greenery, wildlife and of course the pleasing weather. Yes, there are cities in Kerala which are equally hot as any other city in India, but we would like you to visit the places which are just perfect for your summer vacation.
"God's own country Or a heaven on earth
Places full of mountains, greenery and streams.
Oh Kerala! God created you with utmost care."
Rekha Menon
We share with our readers the complete detail about the places they can visit in their four day Kerala trip
Your Trip Plan:
Reach the Cochin airport and from there, plan your trip to these wonderful places of Kerala that will make you dumbstruck. We have listed the places you can visit in four days.
Munnar:
The perfect holiday destination to beat your heat is the Munnar hill station located 1600 m above the sea level. The lush green Western Ghats Mountains veiled with a mist of clouds and the breathtaking view of largest tea plantation of South India would be a visual treat to your eyes. The pleasing weather would definitely let you relax and don't forget to sip a cup of piping hot tea, which would rejuvenate your senses.
Source:mistyhillsmunnar.in
How to Reach: It is 110 km from the airport and it takes about four hours from the airport to reach Munnar.
Places of Interest: Mattupetty Dam, Kundala Lake, Echo Point, Attukad Waterfalls, Chinnar Wildlife sanctuary, Vagamon (for paragliding), Lockhart Gap.
Tip: Hire a car to visit the places, else if you are driving be cautious about the roads and hairpins. Enjoy the shikara boat in Kundal Lake.
Best time to visit: August to May
Thekkady:
Thekkady is an abode to wildlife and is a destination for wildlife lovers. This place is also called the home of elephants and apart from wildlife you can even enjoy the serene jungle walks.
Source:blog.sterlingholidays.com
How to reach: From Munnar the distance to Thekkady is 110 km which would take about 3 hours drive. And from the Cochin airport it is 130 km and would take 3 -4 hours of drive.
Places of Interest: Periyar Wildlife sanctuary, Kumily, Periyar Tiger trails, Chellarkovil (known for waterfalls), Grampi (hill station), Gavi (for nature lovers), Deepa World Spice and Ayurvedic Garden.
Tip: Elephant ride should be on your list, enjoy the spice walk and eat at Bamboo cafe for perfect Kerala cuisine.
Best time to visit: June to February
Kumarakom:
This is the most recommended place for relaxation. The scenic view will make you forget your hustle bustle life and take you to a whole new world. The rich coconut groves, backwaters, dense forest, rare bird species is sure to make you fall in love with this lovely hamlet. This is a perfect place for nature and bird lovers.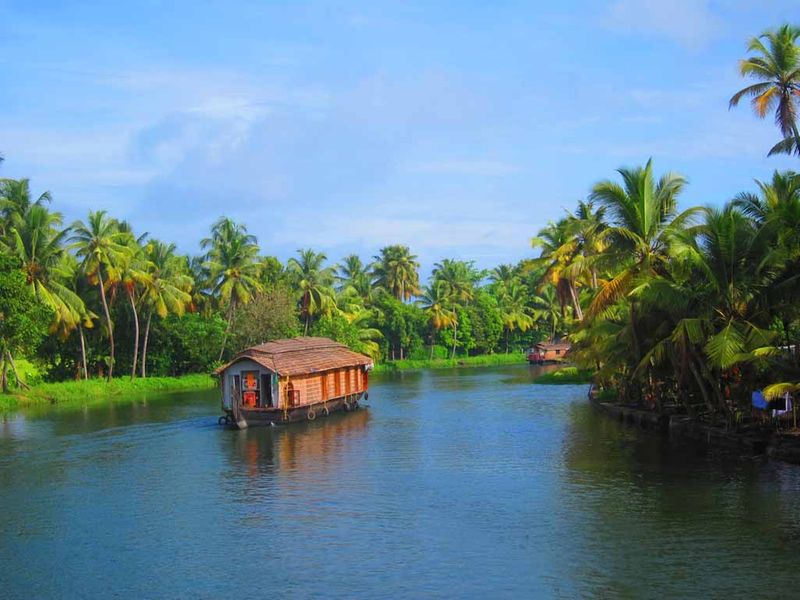 source:Tripfactory.com
How to reach: The distance from Thekkady is about 123 km which would again take you more than 3 hours to reach Kumarakom, whereas from the Cochin airport it takes an hour to reach this place.
Places of Interest: Vembanad Lake, Kumarakom backwaters, beaches, Aruvikkuzhi Falls, Kumarakom Bird Sanctuary
Tip: Taste the authentic food of Kerala at Karimeen and spend a night at the houseboat.
Best time to visit: November to May
Alleppey:
This stunning place is also known as the Venice of East and is very famous for the beautiful and relaxing backwaters and beaches. If Kerala is your honeymoon destination, then Alleppey is a must visit destination. The scenic beauty, shimmering backwater and beautiful sunset will completely mesmerise you. These days Kerala tourism packages are the most sold packages for honeymoon.
How to Reach: Travel at night from Kumarakom to Alleppey by houseboat which would take 21 hours, else by road it takes an hour to reach Alleppey.
Places of Interest: Alleppey beach, Marari beach, Krishnapuram Palace, Pathiramanal Island, Karumadi temple, Nehru Trophy Snake Boat Race.
Tip: Revitalise your senses with Ayurvedic spa, enjoy the snake boat race, and during the peak seasons book in advance your house boat ride.
Best time to visit: September to May
Cochin:
Before catching your flight, do take a view of the Queen of Arabian Sea- Cochin. The city is beautifully decorated with European historic beauty as well as the stunning beaches. As this place is the hub for trading; you can find the mix of cultures and you would get spicy and variety gourmet.
source:ramadacochin.com
How to Reach: From Alleppey it takes 1 hour to reach Cochin.
Places of Interest: Fort Kochi, Chinese Fishing nets, Princess Street, Jew Synagogue and Jew Town, St. Francis Church, Cherai beach, Dutch Palace, Vypeen Island Zone, Kerala folklore theatre museum.
Tip: If you have time then watch the famous Kathakali dance, watch the dolphins at the Cherai beach. The bus facilities are amazing so you can visit the places by bus.
Best time to visit: July to September, October to March
Even a week wouldn't be enough to discover the fabulous Kerala. However whatever time you have, make the best of it by visiting the serene and picturesque Kerala. Let us know which of these splendid places is on your bucket list.
You may also read-