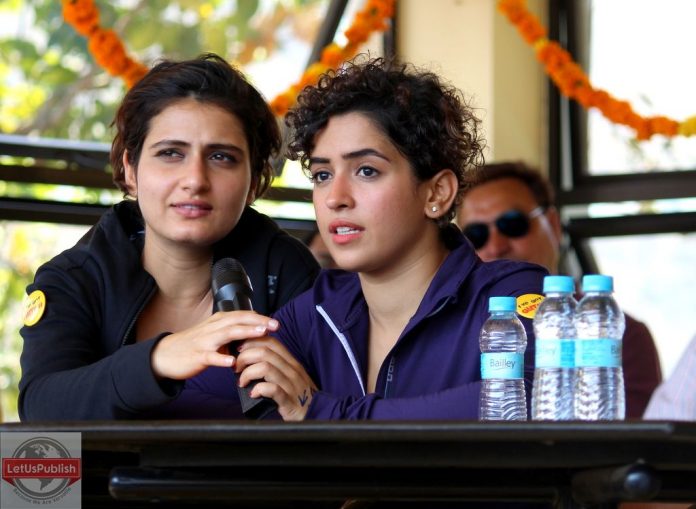 Are you fond of adventure sports? Do you like to try out new experiences that give you an adrenaline rush? If so, then lapped in the beauty of Rishikesh is Jumpin Heights the One Stop Destination for adventure lovers.
If you are still wondering if it's worth a try then you will be surprised to know that they have the highest bungy jumping platform. Jumpin Heights is built right on top of a tributary of river Ganga called Hyul. It is India's highest fixed platform for bungee jumping at 83 meters.
People from all over are coming to Rishikesh to get an adrenaline rush at Jumpin Heights.That is not all they have recently completed the landmark of 50,000 bungee jumps. To celebrate this mammoth figure an elaborate event was organized.
In this event people from across the world participated, many sports enthusiasts and hundreds of people who were first-time jumpers came together. Such an event could not escape the attention of celebrities too. The Dangal actresses – Fatima Shaikh and Sanya Malhotra were a part of this mega event.
Fatima Shaikh has recently come into the spotlight for effortlessly essaying the role of Geeta Phogat, the Gold medalist from India at the Commonwealth game. Sanya Malhotra came into the spotlight for portraying the character of Babita Kumari on screen.
Babita is a renowned Indian wrestler. While Fatima cheered Sanya took the plunge and marked the 50,000th jump as a tribute to women power and to enhance the power of the event.
Check video where Sanya Malhotra is doing Bungy Jump
Check video where Fatima Shaikh Experiencing Giant Swing
Ex-Capt. Rahul Nigam who is also the founder and managing director at Jumping heights was elated with the stupendous response this event gathered. He was ecstatic to reach the 50,000 mark so quickly. He went to comment that when Jumpin Heights started the first plunge was also taken by a woman emphasizing the role and importance of women in today's world.
He also mentioned that it was an honor for him and his company that Sanya Malhotra has come to take part in the 50,000th jump while the other Dangal girl Fatima rooted for her costar.
Here are more pics from Jumpin Heights Event –
The whole atmosphere was filled with high energy and positivity. The Dangal girls have essayed strong characters on the silver screen. Characters that are mentally strong and who can take on any hurdle head on. Such an attitude towards life is also required and encouraged at Jumpin Heights.
Jumpin Heights have come a long way. It was the first extreme adventure stop that came up in India. It was statistically located at Rishikesh, a place amidst the hills that is known for its rafting and tranquility.
Jumpin heights offer state of the art adventure sports amidst picturesque locales like –
Bungy Jumping
Flying Fox
Giant Swing
It was launched in the year 2010 by Ex capt Rahul Nigam and his close aid Col Manoj Kumar. They wanted to give today's youth a taste of adventure. They knew that there was an appetite for this kind of extreme sports in India but nobody seemed interested in taking the plunge. These close mates wanted to introduce the youth of today to a commercial adventure sports platform that abides by the various International Safety Standards.
You may also love to check –