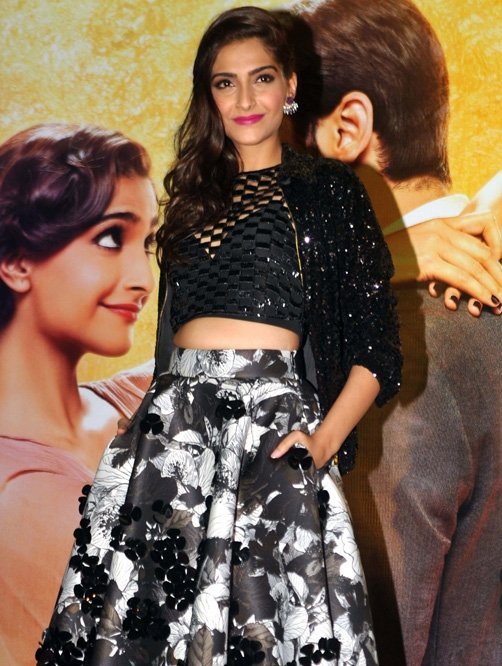 So you also think that crop tops are like sky-high stilettos or false eyelashes—great in theory, but not always so easy to incorporate into your daily life. Or that crop top is worn by trend zombies and celebs of the fashion club. My dear friend, you are completely mistaken! With the help of some easy layering tricks, a crop top can actually become one of the most versatile items in your wardrobe—even with ethnic or Indian dressing. Read on for tips on how each and every body type can really rock a crop top….
Indian Style….
Keep in mind that there are all sorts of different kinds of crop tops to wear, and all sorts of different ways to wear them. They give your outfit a much needed exquisite blend of Indian and Western elements without having to go out of your way!
1. Lehenga or Long skirt

Trust me, this is the most easiest and awesome way to start off with your first crop top. Crop top with a long skirt or lehenga will make you look extremely refined and uptown without showing much off your skin. They will highlight your bold yet feminine characteristics without making you look over the top! For a festive or your BFF marriage style crop top with fairy lehenga and a stylish maang tikka! You can drape a colorful dupatta on your crop top to show love for your Indian culture!
2. Dhoti Pants

Remember audacious style of Sonam Kapoor in her movie Khoobsurat? Yes! We are talking about Dhoti pants! Dhoti pants are so much comfortable, fun and stylish too. Pairing crop tops with dhoti pants not only makes you look graceful but runway ready. To finish off your look seamlessly style them with mojaris or jootis.
3. Palazzo

Palazzos are light, super comfortable and more likely to stay in the fashion for quite a while. The best part of palazzos is you can wear them without worrying about weight issues! Combining crop top with palazzos is a just perfect mix of style and comfort. You can pair them up with high heels or platforms and make heads turn around!
4. Saree

You won't mind if I say that crop top is the cousin of Indian blouse who hails from the west! So, for a punch of Indo- western fusion try replacing your blouse with a crop top. It's the simplest way to include crop top in your ethnic game and get noticed by all the fashionistas! To set a strong style statement, wear your attire with danglers, bindi and hold a shimmering clutch.
Western style…
No matter who you are or what your personal aesthetic is, there's a way for you to feel good in a crop top. Though there are endless ways of styling crop top but keeping in mind you are less naïve we will give you the ones you can play with…
1. High waist bottoms

We understand if you feel a little uncomfortable showing off your glimpse of skin. Just because you are wearing a crop top, it doesn't mean your belly button will be exposed. You can try matching a crop top with high-waist jeans or trousers and can eliminate any midriff show. You can also pair them with jeggings and add some cool sneakers or flats for a relaxed yet stylish outfit.
2. A line skirts and pencil skirts

If you love to be more girly, you can match your crop top with A-line skirt. Keep the colour palette of your outfit subdued if you're wearing a circle skirt and crop top with high heels. Matching separates are as darling as can be, which makes the crop top much more ladylike. You can also style crop top that hits right at your true waist, paired with a body-con pencil skirt that hits just below your knees. Just the way Kim Kardashian did it- showing off her curves and assets!
3. Shorts

If you are a gym rat or blessed with that perfect figure; grab your denim shorts, some cute booties, a chic pendant and you'll be out the door in no time! If the crop top of your choice makes you feel like a sexy badass, wear it. How you feel in it is actually the only thing that matters!
4. Layer 'Em in and out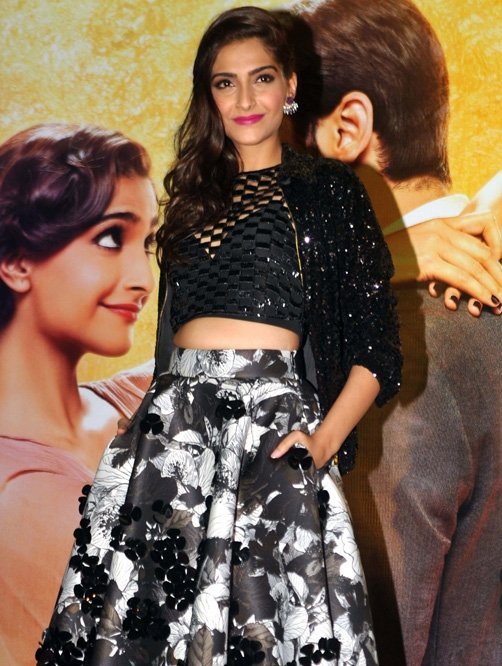 If you are little doubtful about your crop top layer it up! Layering will make you feel more put together and covered up. Apart from trendy jackets and blazers, you can also pick ethnic or printed jackets. The addition of a no-nonsense and sophisticated layer elevates the crop top just enough. No need to retire your crop tops in cold weather; instead layer them over longer tops or opt for sweater crop tops for an effortless, relaxed look. Once you put on your crop top, own it and be your own boss.
Tips for plump and plus size ladies to style crop top
Heads up ladies! If you think that only flat stomach skinny girls can wear crop top you are tragically mistaken. Seriously, to the reader and all the women without flat stomachs; YES YOU CAN PULL OFF A CROP TOP. The key is to find one that accommodates your curves and wear a bottom that supports the look. The most important thing is you should feel confident and stylish! If you're intimidated by wearing a somewhat shrunken shirt, here are a few tips for you.
Get Loose

No, crop tops don't need to be skin tight as you think in your mind! Try one with a baggier fit that will decrease any crop top induced nervousness.
Nail on Sleeves
source: fashionlady.in
If you feel sleeveless crop top is showing too much of your skin, try a full sleeve crop top. Not only they look uber cool with sarees and for the winter season, another more modest reason is that it adds a sense of balance to the shorter top.
Baby steps
So it's your first time for the crop top and you are dilemma, what material or type to pick for.. chillax! Look for one made of a thicker, sweater material and/or one with a slightly longer length. Not only they look stylish but they are surprisingly versatile and look good on everyone.
So, how do you plan on rocking a crop top? With skirt or shorts? Heels or boots? Or you have your own secret style? Do let us know!
Image source: google.com
 You may also read-