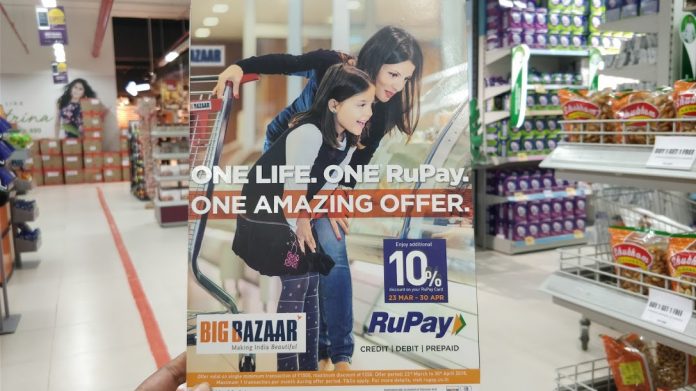 No one can resist a good discount, and why should they? With the essential bills shooting up, our wish list usually tends to get ignored. Discounts, cash back, credit points etc. offer a much-needed relief to our sore wallets and help us spend guilt-free on our desires. Savings and add-on benefits from my RuPay Select Credit Card have enabled me to surprise my husband, Mohit with an impromptu gift.
I am giddy with my current feat as my smart savings via RuPay and Big Bazaar have helped bring a smile on Mohit's face. Big Bazaar has been a one-stop shop for my daily essentials for years. What made this month's shopping more worthwhile was the 10% additional discount on my Big Bazaar bill on paying with my RuPay credit card.
You read it right! An additional 10% discount can be availed at Big Bazaar outlets as well as retail brands under Big Bazaar, such as Ezone and Fbb with RuPay Debit, Credit and Prepaid cards. The offer is valid until 30th April 2018 on a single minimum purchase of Rs. 1500/-.
Please note that this is an additional 10% discount on already great deals from Big Bazaar, saving a good sum to spare on other essentials. For further details on the offer visit – https://www.rupay.co.in/big-bazaar
I was planning to buy a Philips Trimmer for Mohit for some time and I finally bought it all thanks to this amazing offer. The special discount facilitated me to buy the trimmer without making a hole into my monthly budget or cracking into my savings.
The best part was that he wasn't expecting a gift as it was neither his birthday nor our anniversary. The gift was just a gesture to show my love and appreciation and his amazed and animated expressions were simply the cherry on the cake.
As a newlywed and a new homemaker, I am starting to understand the essence of balancing savings and expenditures. It is definitely hard to strike the perfect balance, but some smart decisions can surely make it happen. For example, almost all of us work with a well-defined budget and discounts such as these provide us the wiggle room for something extra.  I chose to surprise my husband with the 'savings', you can choose something special for yourself, your home or from your wish list.
One smart tip I would like to extend toward you is to get a RuPay card, if you haven't already. Not just for the 10% additional discount but for all the many other benefits.  RuPay Debit, Credit, and Prepaid cards are also widely accepted at ATMs, POS devices and e-commerce websites across India and offer great cash back schemes, airport lounge access, concierge services and many more services.
What's noteworthy is that the term RuPay is derived from the words 'Rupee' and 'Payment.' It is India's very own domestic Debit and Credit Card payment network and we should proudly extend our support to it. My experience with the RuPay card has been nothing short of utmost contentment.
So what are you waiting for? Get your RuPay card and visit your nearest Big Bazaar outlets.

You may also love to read these blog –