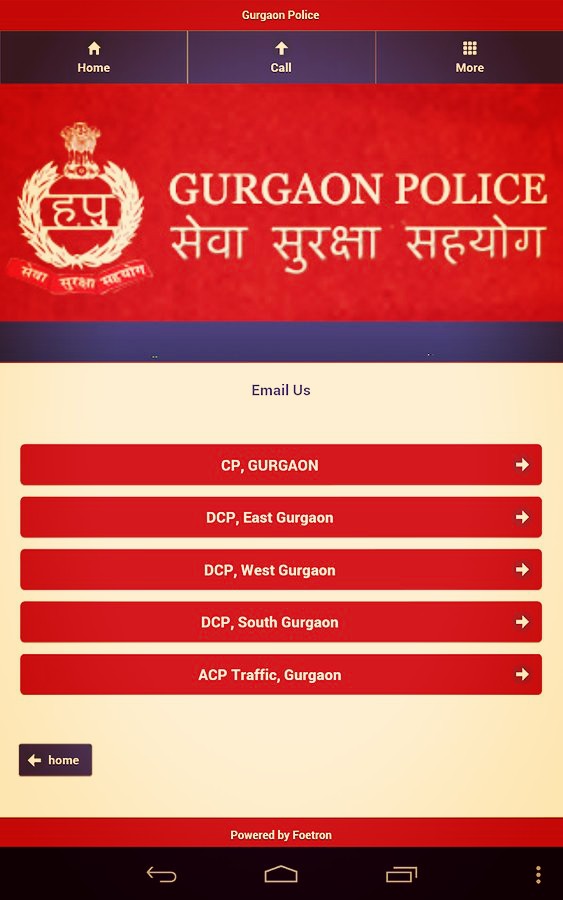 Gurgaon Police has launched an APP for smartphone users to help the citizens of this city. The police of Gurgaon is ready to help its people with the help of technology. People used to dial 100 or use SOS service whenever they faced problems, but now just an App can help them to reach the Gurgaon Police.
The APP is easy to use and can be very reliable. Sources reveal that this App will help to curb down the rate of crime as people can instantly lodge their problems and police will take action soon. The Criminals will also have a sense of fear that police is well connected with the residents of Gurgaon. Plus the common man will also feel a sense of security
Gurgaon police firmly believes that the communication gap between the people and police can be filled. The Police will be like friends to the citizens as they can be reached easily on phone.
For Android and iOS users
This Gurgaon police App is available for android and iOS users. It can be easily downloaded from Google Play Store and Apple itunes. The App is free of cost and can be easily installed on respective smartphones.
Needs 4 MB and 9.1 MB for installation in Android and Apple phones respectively.
Features

Even slow connection 2G service will work
The App contains the contact details of each and every Police station
The App tells you the nearest Police station
The App shows the name of Police officer in charge or SHO
Senior Citizen, Women, Children can directly contact police via helpline numbers provided in this App.
Emergency Police Assistance is also guaranteed in this App
The traffic jams and issues related to it can be reported to Gurgaon Police with the the help of this App
Feedback of Policemen or Police service regarding your issues can be easily made with the help of this App.
It helps you to send direct mail to none other than the Commissioner of Police.
Also helps in sending direct mail to traffic in charge
Even no need of internet for few functions
 Download Gurgaon Police APP for Free

Android Users  –  https://play.google.com/store/apps/details?id=com.foetron.gurgaonpolice&hl=en
Apple iOS users  – https://itunes.apple.com/us/app/gurgaon-police/id872521293?mt=8
 Reviews and final words – This App is getting good and positive response from the users. It is already in use and getting installed in smartphones of Gurgaon at a high rate. Moreover, its now easier for the common people to reach the nearest police station in case of an emergency. So just download this free and help Gurgaon police in keeping their city crime free and secure.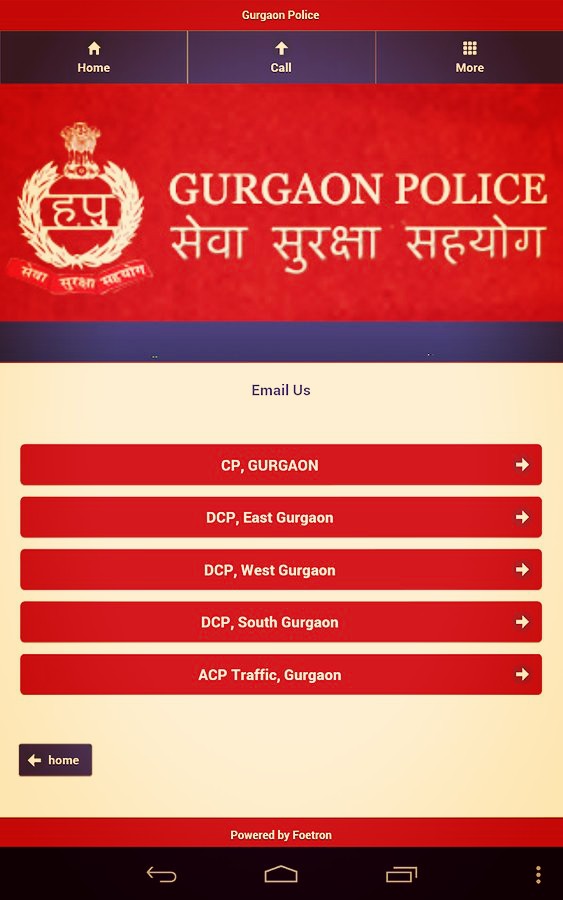 Personally we would like to request to all Gurgaon people, please must download this app and help Gurgaon Police. Must share this post with your friends and relatives, who live in Gurgaon.
Related stories –