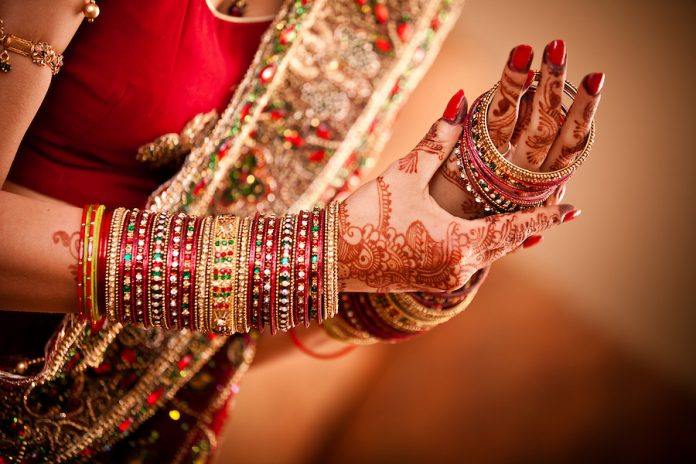 The biggest pressure a bride-to-be has is picking her dream bridal lehenga. It is definitely not the easiest job and with tons of options filled in the fashion market, it is definitely a feat to pick the right bridal lehenga. After all, your bridal lehenga is going to be your prized possession and it is important that you buy it with utmost care and time.
So soon to be brides, forget your confusion and read our guide to select the perfect bridal lehengas for your wedding. We bet you would bookmark this post as we have covered all the important aspects to look for before buying a bridal lehenga.
1. Set your budget:
This is a thumb rule, whether you like it or not. But it is highly important that you first decide on your budget and then shop around for the bridal lehenga. By setting a budget you wouldn't sound stingy, instead, you are being realistic and buying a lehenga that is affordable.
And when you shop online you can easily get bridal lehenga at super affordable price range.

2. Pick lehenga that complements your skin tone:
Another important factor to focus on before buying your wedding lehenga is the color of your lehenga. Make sure you pick lehenga shade that matches your skin tone, else your bridal lehenga would turn into a big time fail.
Fair skin tone brides- Pick shades like red, royal blue, Pink, Marsala, deep wine red and soft pastel shades such as powder pink, icy blue, mint green.
Wheatish skin tone brides- Pick shades such as mango, blue, beige, mint green
Dusky skin tone brides- Champagne, Gold, Silver, Pumpkin orange, Deep red, Royal blue.
Do Read – Bollywood Brides Who Ditched Red Lehenga On Their Wedding
3. Find out which lehenga would suit your body type:
Once you match the lehenga color to your skin tone, you should now figure out what is your body type and then choose lehenga accordingly.

Pear shape- A pear-shaped bride should balance her look by picking an embellished choli with straight cut lehenga.
Petite- Go for small motifs and embroidery work lehenga and pick A-line or mermaid style lehenga that would accentuate your curves.
Hour glass- Having the perfect body shape you can pick any style lehenga and we would suggest A-line lehenga with a crop top that would bring a wow factor to your personality.
Apple shaped- Brides with heavy top should prefer V neckline choli and go for a ballroom lehenga that will bring a balanced look.
Must check – Top Bridal Lehenga Trending in 2016
4. Decide on what style of lehenga you want to wear:
As it is the special day of your life, you need to decide on how you would want to look. You can either choose to be the perfect traditional bride by picking heavy embroidery work or silk thread work lehenga or you can bring a fusion of Indo-Western look to your lehenga by picking the contemporary bridal lehenga and look like a modern bride.

5. Look out for the fabric:
It is important that you pick fabric based on the season of your wedding. If you are a summer bride then you should pick georgette, chiffon, net and other lightweight fabrics, whereas if you are a winter bride then it would be perfect to pick warm fabrics like velvet, satin, and others.
6. Match your bridal lehenga to your jewelry:
Every bride makes this mistake- she picks jewelry matching to her lehenga. But we suggest you pick your jewelry first and then buy a lehenga matching to it. Your bridal jewelry is going to be your one-time invest and it would be ideal pick jewelry that is trendy and classy.
We hope this post helps you pick the right bridal lehenga for your D-day. Reduce your stress and bring on the happy mode on by picking the perfect bridal lehenga with the above informative guidelines.
Note – Pics from Google Images.
You might also Like –