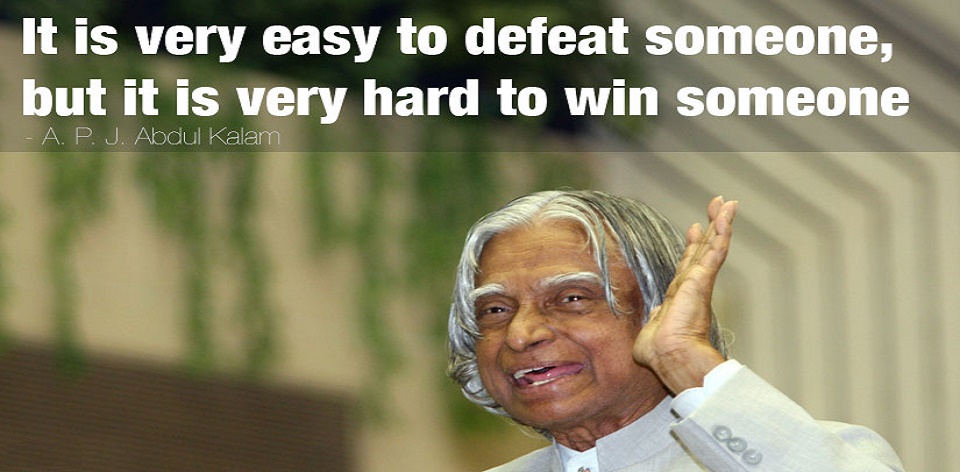 Every Indian is aware with the great loss of country. We are in pain, because the great leader A. P. J Abdul Kalam. He is no more breathing  with us in the same air. He passed away yesterday during his lecture in IIM .
But I, in-fact few of us believe – He is still Alive 🙂
He is in every heart
He is in our mind
He is in our words
He is in the blood of nation!!!
His love, his care, his work, his thoughts, his concern, his messages are running within every Indian. He is truly the great inspiration for youth. His words, teachings and thoughts will keep him alive in our heart, in our thoughts, and in our life, for never ending decades.
And I am happy to announce that this leader is not the leader born with silver spoon in mouth. If you are not aware with the childhood story of the leader, you must read it and you will be surprised 'how an innocent poor kid turned into the 'People's President'. Dr. Kalam became the 'Missile Man' after their great contribution in success of India's space mission.
His work and love for the nation can't be described in few words. So below I am going to put all the great sayings, quotes and messages by the leader to make you inspire enough. I wish this read will bring you more closer to the Dr. APJ Abdul Kalam and you will feel more inspired & motivated.
Quotes by A. P. J. Abdul Kalam
If a country is to be corruption free and become a nation of beautiful minds, I strongly feel there are three key societal members who can make a difference. They are the father, the mother and the teacher.
English is necessary as at present original works of science are in English. I believe that in two decades times original works of science will start coming out in our languages. Then we can move over like the Japanese.
You have to dream before your dreams can come true.
Great dreams of great dreamers are always transcended.
To succeed in your mission, you must have single-minded devotion to your goal.
Man needs his difficulties because they are necessary to enjoy success.
We should not give up and we should not allow the problem to defeat us.
Those who cannot work with their hearts achieve but a hollow, half-hearted success that breeds bitterness all around.
In India we only read about death, sickness, terrorism, crime.

This post is not yet finished. I will add the best of Kalam more after my next research, meanwhile stay blessed and keep dreaming big.
Images – Google 
You may also enjoy –
Save