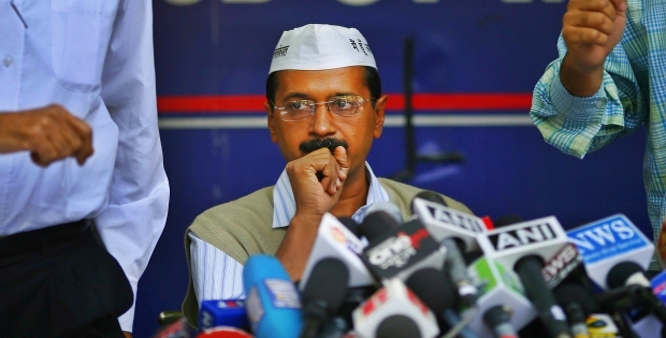 Arvind Kejriwal shocked everyone by winning 28 seats in his debut Delhi Assembly Election'13 and changed the face of Indian Politics.
He not only defeated three time CM Sheila Dixit but also become the man of his words by forming government with the help of unconditional support by congress.
Soon after, this man was awarded with the tag name of "Bhagoda" when he resigned from the post of Delhi Chief Minister in just 49 days. It adversely effected AAP's popularity among the masses and in Lok Sabha election they miserably failed to secure one seat out of seven constituency in Delhi.
The AAP magic faded within 6 months and the people who once used to praise AAP started distancing themselves from the party.
In the mean time, Delhi Vidhan Sabha didn't get dissolved and hence Delhi went under the President's rule. If reports are are to believe than 15 AAP and 6 Congress MLAs are being lured by BJP.
On the other side, one of the AAP's MLA Bandana Kumari has even received death threat. In contrary, Congress MLA Asif has also claimed that Manish Sisodia of AAP send him an SMS regarding formation of coalition government between AAP & Congress.
Even after the Modi Wave and BJP's huge victory; Central government led by Mr. Modi is constantly avoiding re-elections in Delhi. This gave Arvind Kejriwal yet another chance to target BJP and he wrote a letter to Home Minister Rajnath Singh as well as met President Pranab Mukherjee with his MLAs to bring notice on Delhi's election issue.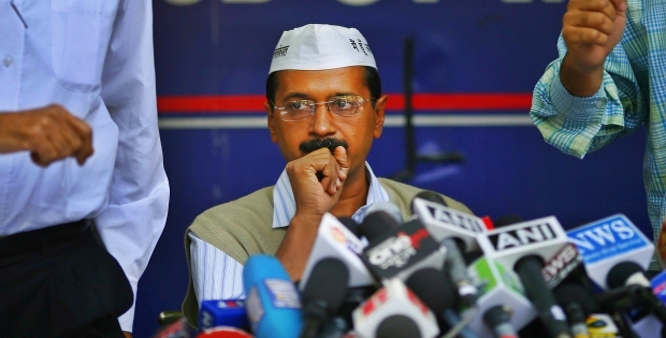 To pressurize current government, he organized a rally at Jantar Mantar on 3rd August, from where he received a good response from crowd. After which several newspapers reported that BJP and Congress could be again destabilize by AAP.
Not to mention that AAP even filed a petition in Supreme Court for re-elections in Delhi. This petition somehow turned in the favour of AAP as Supreme Court asked Central government to issue a statement or to clear its stand on Delhi Elections within 4-5 weeks.
According to Times of India report (6 Sep-2014),  2/3 of Delhites don;t want BJP to form minority government. Also, 43% of Delhi voters want AAP to form government in Delhi whereas 37% batted for BJP. TOI reports also indicates that Arvind Kejriwal is the most wanted CM for Delhi as 37% of Delhites want to him to regain his chair.
Here are some facts from TOI reports –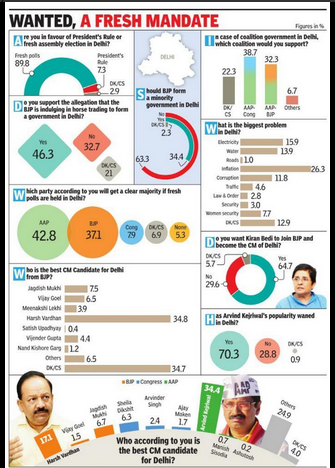 The story doesn't ends here since Arvind Kejriwal released a video showing BJP Delhi vice president asking AAP MLA Mohania to take 4 Crores for supporting BJP.
The released video can be seen on – https://www.youtube.com/watch?v=EGPA-OsKgOg
If rumors are to believe than the re-elections may be held in February 2015 if BJP do not form any coalition government.
Finally the big questions arises could Congress would be able to bounce back or BJP will get the benefit of Mr. Modi being in centre or Arvind Kejriwal's magic will prevail.
Read more-