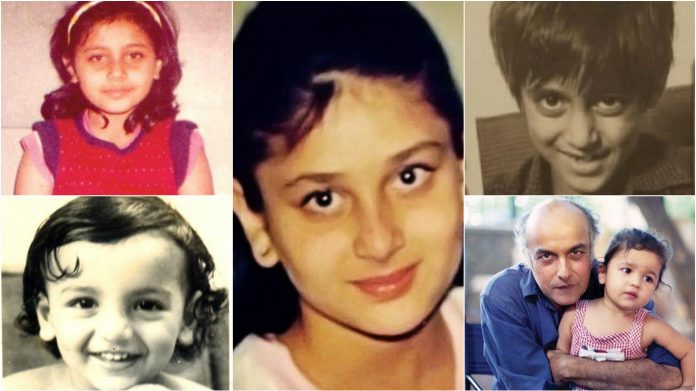 It is believed that the secret to living life as an adult is to never let the child in you die. And on the occasion of Children's day, let us promise each other to always keep the child spirit high in us. So being a special day for kids we decided to make your day even more special by showing you childhood pictures of your favorite celebrities.
While some actors and actresses look just the same, there are a few photos of celebrities that just don't look like them. So leave everything that you are doing and take a look at the childhood photo diary of your favorite celebrity and feel happy seeing them.
We are sure these photos will make your day and remind you of your childhood too. Happy days.
1. Amitabh Bachchan:
Could you recognize this cute little boy? Yes, he is the Shahenshah of our Bollywood and doesn't he look super adorable in this photo? We totally adore over this picture.

2. Madhuri Dixit:
This innocent picture of the dancing diva shows that she has been Miss. Perfect since her childhood. This photo is of her school days and we find her lovely.

3. Shilpa Shetty:
We are quite sure you can't believe this is the childhood photo of Shilpa Shetty. Even we couldn't but the eyes does give a hint that this is baby Shilpa Shetty is rocking her dancing skills since childhood.

4. Aamir Khan:
He is still cute as he was in his childhood. Take a close look at his features and you can easily relate to the Aamir Khan now. He is definitely a cutie pie.

5. Karishma Kapoor: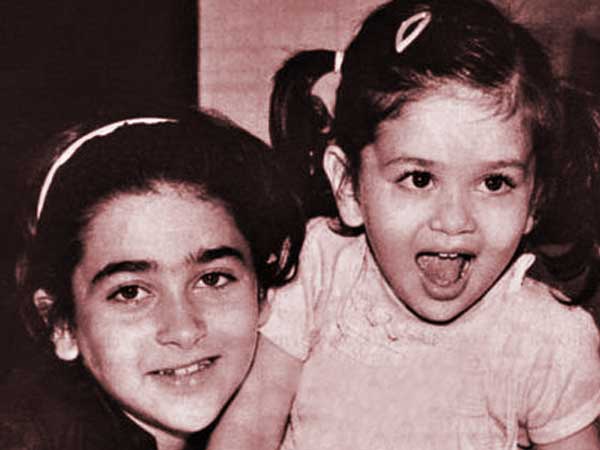 You can easily relate to Karishma Kapoor to her childhood photo. She looks just the same and this photo is totally adorable.

6. Salman Khan:
What was the first thing that you noticed in this pic? We could only notice the eyes gleaming with naughtiness.
This is a childhood picture of The Sultan of Bollywood and he looks endearing as he is now.

7. Deepika Padukone:
We are sure you wouldn't have seen this cute photo of the leggy lass during her toddler days. The almond eyes and cute nose easily give a hint that it is Deepika Padukone and we are in love with her childhood picture.

8. Rani Mukherjee:
Check out this baby photo of Rani Mukherjee, she looks just the same- lovable and pretty.

9. Hrithik Roshan:
He did appear as a child artist in a few films of yesteryears but this is a photo with his family where he looks charming as a young boy.

10. Shahrukh Khan:
Yes, this cute baby is a childhood picture of King Khan and the chubby cheeks and big eyes make him a cute munchkin.


11. Anushka Sharma:
This pretty birthday girl is sweet Anushka Sharma and she totally looks the same as she is now.

12. Priyanka Chopra:
She has been a cutie since her childhood and we find her a darling in this photo.

13. Kareena Kapoor:
Just like her sister, it is easy to relate Bebo with her childhood pic. This is a super adorable picture of Kareena Kapoor and we are in love with it.

14. Abhishek Bachchan:
This cute toddler is Abhishek Bachchan and it is difficult to relate him, but yes he does look chubby and cute.

15. Sonakshi Sinha:
This chubby baby girl is Sonakshi Sinha and who could imagine that this endearing girl would now become an action actress of Bollywood.

16. Akshay Kumar:
The action actor of Bollywood looks super cute in this picture and we bet it would take you few minutes to imagine Akshay as this kid.

17. Alia Bhatt:
Since her childhood, she has been a cutie and we find this photo of Alia Bhatt adorable. She is truly a cupcake whom you could just eat up.

18. Ranveer Singh:
This picture is a live proof that Ranveer has forever been a live wire.

19. Kajol:
Could you find Kajol in this photo? She is the one who is curling her mom's leg. Isn't this lovely picture?

20. John Abraham:
Yes, folks, this is our macho man John Abraham, we know it is hard to believe it's him.

21. Katrina Kaif:
Cute and gorgeous is what we find Katrina in her childhood photo and she just looks the same.

22. Shahid Kapoor:
Did you know Shahid Kapoor was in a Complan ad and he even was one of the dancers in the film Taal? Surprised? But yes it's true and this is cute Shahid as a baby.

23. Ranbir Kapoor:
It is easy to relate Ranbir Kapoor to his childhood photo as he looks just the same. And in this photo, he is with his cousin Kareena Kapoor.

Aren't these photos, super cute? Go take a look at your childhood pictures and relive your childhood once again. Happy Children's Day!

Read more-