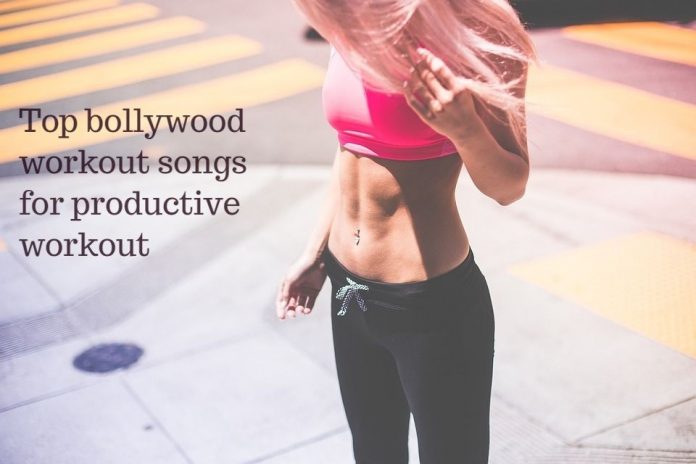 Do you get bored working out for an even half hour? Then blame your music playlist.
Yes, a power packed Bollywood gym workout songs can make your workout interesting and you would lose track of the time too. According to research, music distracts your body from body pain and exertion. Also, the best thing about music is that it can elevate your mood and keep you in the steady pace of your exercise.
Do you need any more reasons to upgrade your playlist? So folks, bring a desi twist to your workout session by adding some bang on Bollywood songs.
Say goodbye to boring long sessions of workout and add some Bollywood fun to your workout sessions.
These gym songs are so fun that by dancing only on these songs daily for 20 minutes can help you to reduce weight & burn calories.
Download our list of bollywood gym songs and move a step closer to perfect body!
1. Kamli – Dhoom 3
2. Saat Aasma (Sultan)
3. Lets Nacho ~ Kapoor and Sons.
4. Shake Your Bootiyan (Finding Fanny)
5. Baby Doll (Raagini MMS 2)
6. Aunty Ji (Ek Main Aur Ekk Tu)
7. Tum hi ho bandhu (Cocktail)
8. Ainvayi Ainvayi (Band Baja Barat)
9. Kar Gayi Chull (Kapoor & Sons)
10. 1 2 3 4 Get on the Dance Floor- (Chennai Express)
https://www.youtube.com/watch?v=QggsVF0DvDU
11. Char Baj Gaye Party Abhi Baki Hai (Faltu)
12. London Thumakda- (Queen)
13. Humma (Ok Janu)
14. Lovely (Happy New year)
15. Patakha Guddi (Highway)
16. Chak Lein De (Chandni Chowk To China)
17. Dhaakad (Dangal)
18. Ziddi Hai (Mary Kom)
Read More Interesting Articles-