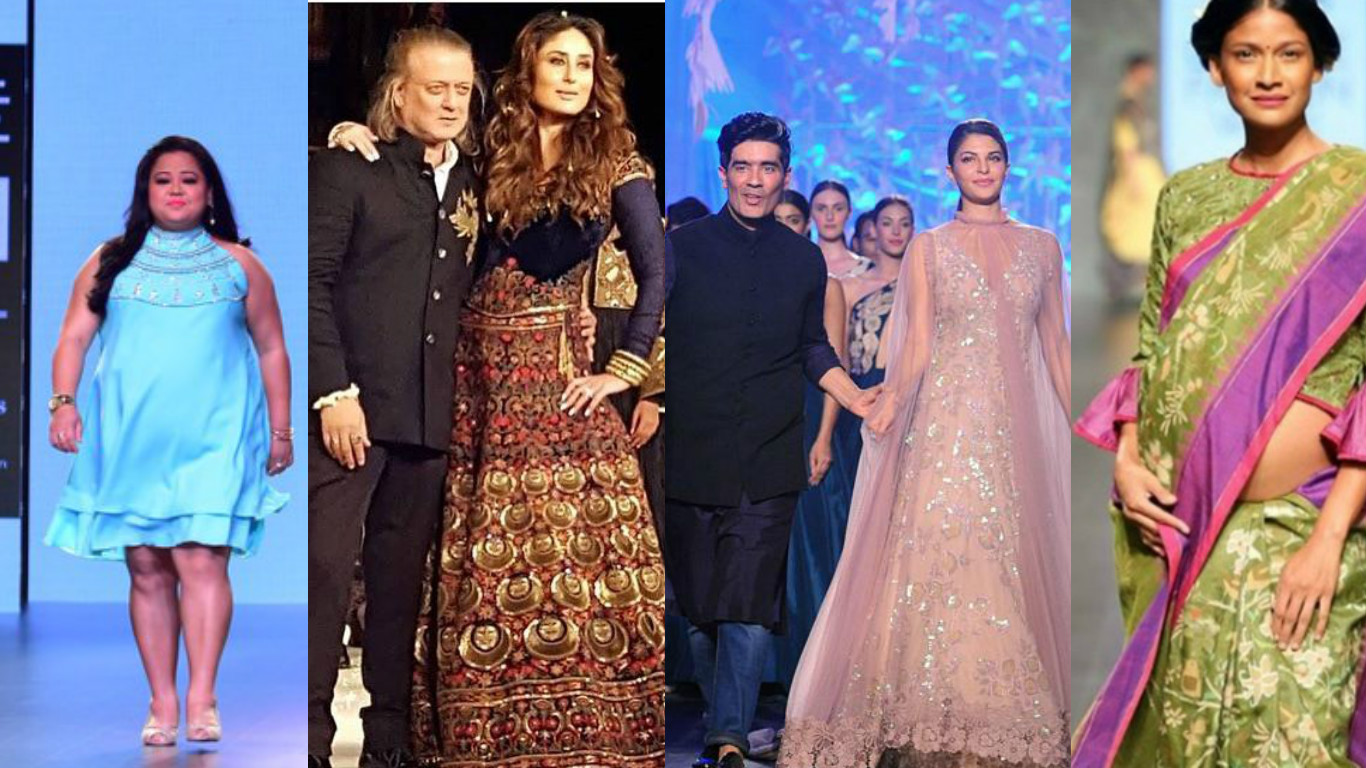 We shared with you the fascinating first three-day highlights of Lakme Fashion Week Summer Resort 2016 and we are sure like us, even you were enthralled with the captivating collection and beautiful show stoppers.
From the Grand opening of the fashion mogul Manish Malhotra collection of the Grand finale show stopper Kareena Kapoor, we were stunned with everything.
The amazing concept of #LYFsmartphones and fashion even hooked us completely.
Our list of the best moments is unending. However, we decided to post the best of LFW 2016, that piqued our interest and made us say wow!
Take a look at what made us say wow.
Fashion meets Technology:
This was an amazing concept that rocked the entire 5 days LFW 2016. LFY smartphones came with an innovative ELEMENTS of nature- Water, Flame, Earth, Wind, which was the theme of the Manish Malhotra collection too. The fusion of fashion and technology was something worth looking for.
Manish Malhotra's show-stoppers outfit:
Manish Malhotra's collection has been forever enchanting, but his show-stopper outfit made us say wow. Jacqueline Fernandez wore a peach gown, which had a train long cape, and we believe this year many brides would try the look.
Carol Gracias baby bump:
LFW 2016 broke the trend of skinny models by showcasing Carol Gracias who flaunted her adorable baby bump. She was spotted in Gaurang Shah's saree and looked beautiful like always.
Bharti Singh:
The famous Indian comedian Bharti Singh who makes our ribs hurt with her humor was the first unconventional showstopper to walk on the ramp. We are happy to see that fashion shows are no more restricted to skinny models, this was definitely a wow moment.
Celebs who made their Debutant:
We even saw two pretty ladies making their debut on the ramp. Shahid Kapoor's wife Mira Rajput walked the ramp in stylish, ethnic wear by Anita Dongre and Dum Laga Ke Haisha heroine Bhumika too slayed the ramp in the sizzling outfit by Sonam and Paras Modi.
Sonakshi Sinha's Twirl and Dance:
LFW 2016 was definitely out of the ordinary fashion week. When Anita Dongre's show stopper Sonakshi Sinha appeared on the ramp, she surprised us all. She danced on a bhangra number and did a twirl with every other model on the ramp. It was a bang on and Sonakshi Sinha signature style. Even on her Instagram post, she wrote #twirl master and we truly feel she is a twirl master.
Stunning Kareena Kapoor:
https://www.instagram.com/p/BDvxWKhpa8s/
The grand finale was completed by the Begum Pataudi Kareena Kapoor, who walked the ramp in Rohit Bal collection 'Koroshi Ni' and looked like the royal queen. From her goddess like hairstyle to her queenly lehenga she looked flawless beauty. We were smitten by her looks and her aura.
Do Read – Kareena Kapoor Khan beauty Secrets from Vivel's bloggers meet
AJIO:
AJIO is an online fashion and style destination by Reliance Retails and it showcased something unique which made us say wow. The brand did something stunning, it made women achievers walked on the ramp and with a style.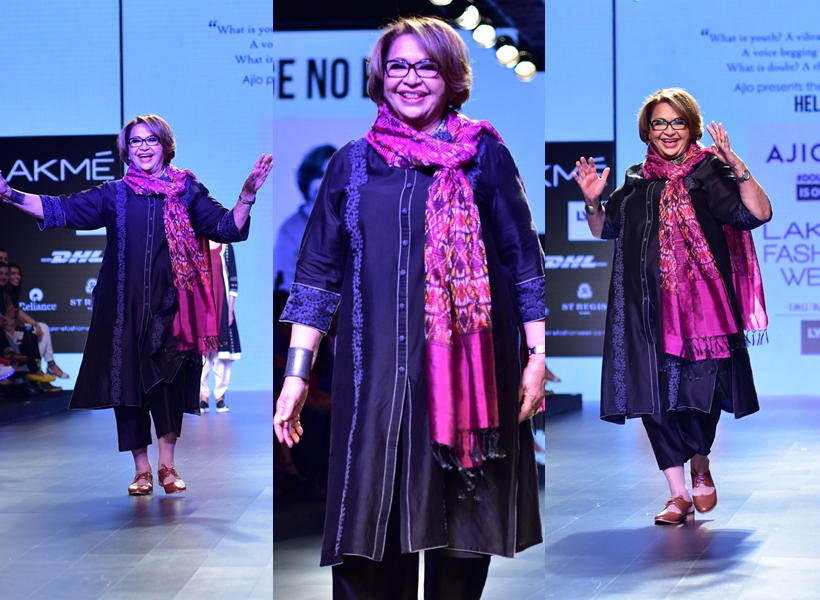 Sunny Leone walked on the ramp to say 'choice no bar'.  Check more of Sunny Leone Wallpapers and Photos here.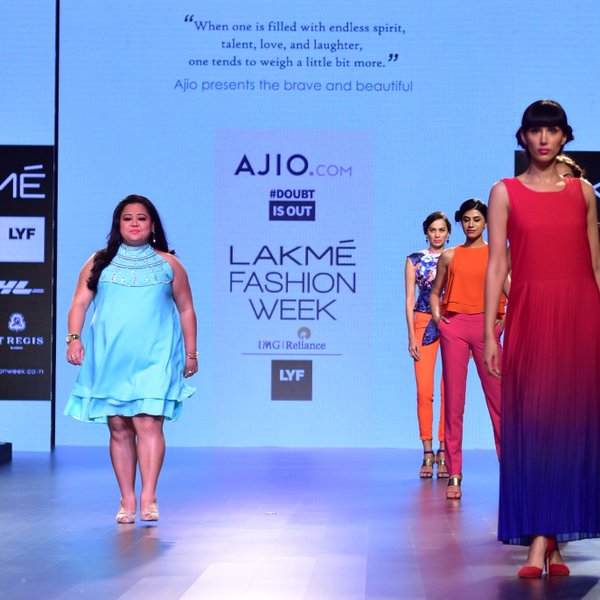 Bharti Singh did her debut on the ramp showcasing 'size no bar'
Suman Sharma, India's first woman to fly MIG fighter jet, walked for 'career no bar'
Laxmi, the show stopper on the ramp saying 'Gender no bar.
The show stole the hearts of all, gave fashionistas coolest and trendiest Summer collection and LYF smartphone showed how fashion meets technology. LFW 2016 was truly filled with amazing ideas and unique concept.
Check out the LYF smartphones selfie and instagram collection exclusively at LetUsPublish.com
https://www.instagram.com/p/BDvjpi3F0Nx/?taken-by=lakmeindia
https://www.instagram.com/p/BDsPY6XrnEU/
https://www.instagram.com/p/BDqX3z4LnKx/
https://www.instagram.com/p/BDvBIQzpa4p/?tagged=lyfsmartphones
https://www.instagram.com/p/BDtHwA1Gkjs/?taken-by=lakmefashionwk
Thanks for your fashionable time Share in with us which of these were the best moment of the LFW 2016.

You may also check-