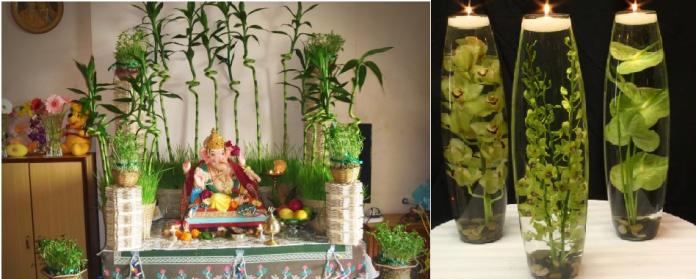 This diwali go eco-friendly, say no to pollution causing crackers, no more artificial lights, today we are going to tell the best way to make your Diwali DIY Decoration cheap and eco friendly.
Flowers: Collect some fresh and real flowers, like Marigold & Roses and decor your Mandir and home with them. You can also offer these fresh flowers to both Lord Vishnu and Ganesha as they both love yellow colour.
Decorate your mandir &  pooja thali  with flowers.
Flowers can also be use as floor decoration.
Wall hangings: Welcome goddess laxmi with the flowers on door entrance.
Plants: Get indoor plants this festive season, as they not only look great, also very beneficial for you and the environment, many plants provide air purification, some are for good luck, there are also many indoor plants which helps in bringing positive energy and releasing stress .
You can check out the list of indoor plants you must have in your home.
a)Go creative this diwali, and shop some crafting papers make your own lanterns at home, also there are easily available ready-made in the market.
b) you can also choose hand made pottery lanterns like:
Choose handmade pottery "DIYAS" despite of ready made diyas, pour mustard oil to lit them.
Choose sea shells, coconut shells candles for lightning.
Choose organic candles on this festive season, organic candles getting very popular now days because they can do not release harmful gases while burning, hence creates no harms to our environment. They are widely available in different scents: lemon, soy candles.
Use colored rice, dry flour, colored sand or flower petals and organic colours. Rangoli designs can be simple geometric shapes, deity impressions, or flower and petal shapes (appropriate for the given celebrations), but they can also be very elaborate designs crafted by numerous people.
The base material is usually dry or wet powdered rice or dry flour, to which sindoor (vermilion), haldi (turmeric) and other natural colours can be added.
You can even use flowers for rangoli.
Click to check more rangoli designs.
Gifts: Choose your gifts wisely, try to make it economic.
Home-made sweets and chocolates: Prepare home made laddoos, chocolates to gift this diwali. They can be the healthiest gift for your loved once. You can also pick a gift pack of dry fruits.
Gift at least one small plant to your relatives.
Buy necessary things to gift instead of buying expensive gifts; like if you have maids or drivers working for you, help them with some pulses, grains, flour etc or provide books to their children which helps them in their financial budget, apparently you will providing them some help for better living, however the motive of festivals is to spread happiness and love.
You may also enjoy reading –