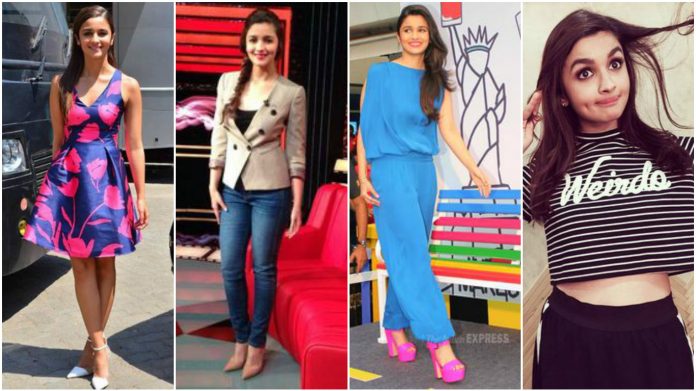 Youthful, pretty and chic is how we can describe Alia Bhatt's style quotient.. She has already proven her versatility as an actress and singer. Another feather attached to her hat is about a fashion designer.
In 2015, she collaborated with Jabong for winter collection and displayed her Shandaar fashion sense. She is a fashionista and every college girl can wisely take out a leaf or two from her fashion book! Take style cues from the diva-turned-designer and rock each day of the college week.
1. Cute Dolled up Girl…
Alia Bhatt has been spotted wearing cute little dresses which accentuate her personality. If your college doesn't have any 'length-of-the-skirt' rule, you can also try some Alia Bhatt-inspired fitted and casual dresses. Skater dresses are A-line dresses that hug you at your waist and flow down till your knees.
Not only do they look cute, but they flatter almost any body type. Wear a sleeved skater dress with your comfiest flats to college! Check out Alia on how she wears skater dress with flats and looks oh-so-sweet!
2. Grungy girl…
College is the time you can wear anything and everything. The two things that almost every girl has in her closet – jeans and a denim shirt. Don't be scared to pair denim on denim, as it creates a cool outfit to rock to class. Take a note from Alia, who wears her washed-out denim shirt with her knee-ripped skinnies. You can roll up your jeans, add some white sneakers, and shy away not from a man bun to add an extra edge to your look!
3. Bold babe…
Orange is the new black! So why don't you also give it a try? Like the old saying goes 'bold is beautiful', try and jump into the world of colours. Blingy Fuschia, fluorescent and Peachy Oranges are Alia's favorite colours. Pair printed shorts or skirts with bright colour tops and brighten the whole classroom.
Tie your hair in pigtail and be the super chilled out college girl everyone would just love to hang out with!
4. Rebel and witty girl…
Rebellious is one of look that we all want to don at least once during our college days.. Typeface t-shirts and funny one liners are everyone's favorite during college days! When the college lectures get too boring, these witty T-shirts with the favorite movie or your favorite quote or simply a message you would like to put out there!
Alia Bhatt shows you how to do right by wearing the coolest T-shirt. Pair them with skinny jeans and bright shoes to be thoda hatke.
5.Snazzy girl…
An easy way to elevate your style game in college is by simply throwing on the oversized blazer (Boyfriend Blazer), shrug, waistcoat, kimono. The relaxed fit of a layer and the length makes it so versatile and you can hide not-so-perfect body parts! This is one other amazing fashion statement Alia wears to her regular travel. Wearing this look will make you look stylish and cool as never.
6. Ethnic Girl…
There are some days when you want to go as an ethnic and traditional girl, for that you can definitely wear Alia's Two States look! Long skirt with a plain top accessorised using the perfect long chains and thin plastic bangles that are colourful will complete your look.
You can wear a casual kurti and dhoti pants or jeans or Churidar suits with flowy dupatta and jhumkas to make it interesting!
7. Girl next door…
Alia Bhatt can rock any outfit under the Sun be its crop tops or jumpsuits. From denim to monochrome jumpsuits you can rock it with comfort like the actress. Your college wardrobe will be incomplete without some funky crop tops in it.
From skirts to shorts to high waist jeans you can steal Alia's style and be the 'Student of the year'!
8. Sporty chic.
Sometimes you will have busy days in college when you have to concentrate on work and rush around doing assignments and notes. For such busy days, sneakers are best as they are quite comfortable. Alia took the sneakers to another level by wearing and teaming with different styles.
'Effortless chic' maybe one of the most overused phrases in fashion, but one can't help but use it for her! Just like her go sporty; pair your dress or shorts with casual tees or denim. You can also go with ripped jeans and polo neck T-shirts. The normcore look is in, so go for it.
9. The creative hairstyles…
Messy buns, black eyes, glossy lips, matching nails and funky jewellery… describe perfect 20s! We have seen Alia wears bright, bold and unconventional nail colours to up her style quotient! For eyes, she maintains a natural look with a thin liner, kohl and mascara. For girls, it's best to use a gloss maintaining innocent look.
For your tresses, you can try French braid, to buns, pin ups or high ponytails. Wearing minimal makeup is in. Alia too follows this trend by not applying cakey makeup. She accessories her outfit with funky neckpieces or chunky watches or multiple bangles and bracelets for that girly look. You can do it too!
10. Sophisticated and professional look…
Images – Pinterest
All college days are not the same. Apart from regular lectures and exams, you have to attend job fairs, interviews and look sophisticated. Take tips from Alia as she goes all-white in these fitted trousers and a short-length, full-sleeved shirt with a buttoned-up collar.
A striped or cheque trouser with a black blazer can do the trick. A plain, simple clean hairdo will add oodles of confidence in you. The actress clearly shows how you can make formals funky!
Which of Alia's fashionable style your favorite look? Share with us in the comments below.
More Fashionable Reads –
Save
Save