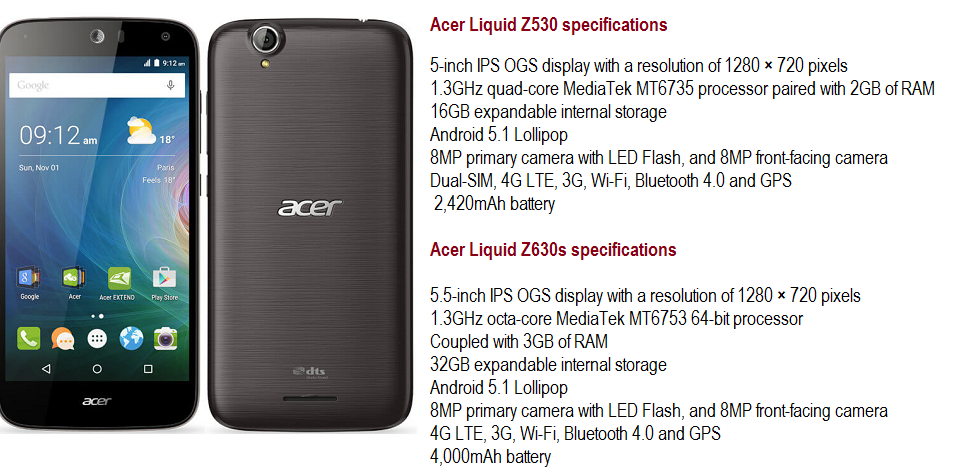 Acer India the leading personal computer brand unveiled two budget smartphones on November 5th in the capital of country. The model names are Z630s and Z530 from Acer Liquid series. Both these latest android phones are now exclusively available on Flipkart for sale with exciting offers.
Buyers can purchase the Liquid Z530 right away from Flipkart, but to purchase Z630s buyers have  to wait for November 12 flash sale. Those who are interested in purchasing Z630s can pre-register between 5th and 11th November, 2015.
Above both models can be the right choice for budget Smartphone buyers. Acer Liquid Z530 is priced at Rs. 6,999 and Acer Liquid Z630s will be available for Rs. 10,999. Mentioned Acer phones are going to be dual SIM phones with latest android version lollipop 5.1 and 4G LTE network technology.
At the launch, company officials mentioned that under 'Make In India' initiative these smart phones will be manufactured in India only from this quarter end. Let's look the detailed specifications of Acer Gadgets.
Acer Liquid Z530 Specs
This android phone is powered by 64-bit, quad-core 1.3GHz MediaTek MT6735 processor with the 5-inch display (144 x 70.3 x 8.9 mm). The phone comes with Android 5.1, 2GB RAM, 16GB storage and advanced graphics.
Liquid Z530 have 8MP wide view angle front camera with 8MP auto-focus rear camera. Acer mentioned the phone camera is going to deliver best selfies with Selfie-Focused camera.
The Acer Z530 also features HD IPS screen with Zero Air Gap, 2,420 mAh battery, photo enhancements presented by Gourmet Mode, WiFi 802.11 b/g/n and Bluetooth 4.0 EDR connectivity.
Acer Liquid Z630s Specs
Powered by the 64-bit, octa-core 1.3GHz MediaTek MT6735 processor the 5.5-inch Liquid Z630s (156.3 x 77.5 8.9 mm) Android 5.1 is enabled with 3GB RAM and a standard 32GB of internal memory.
Liquid Z630s features 4000 mAh battery and an HD Zero Air Gap screen with IPS technology extends to house the 8MP wide view angle front lens (capable of 1080p video recording) as well as the 8MP auto-focus rear camera (capable of 1080p video).
When it comes talk about connectivity, it comes with Cat4 LTE, WiFi 802.11 b/g/n, and Bluetooth 4.0 with LE connectivity.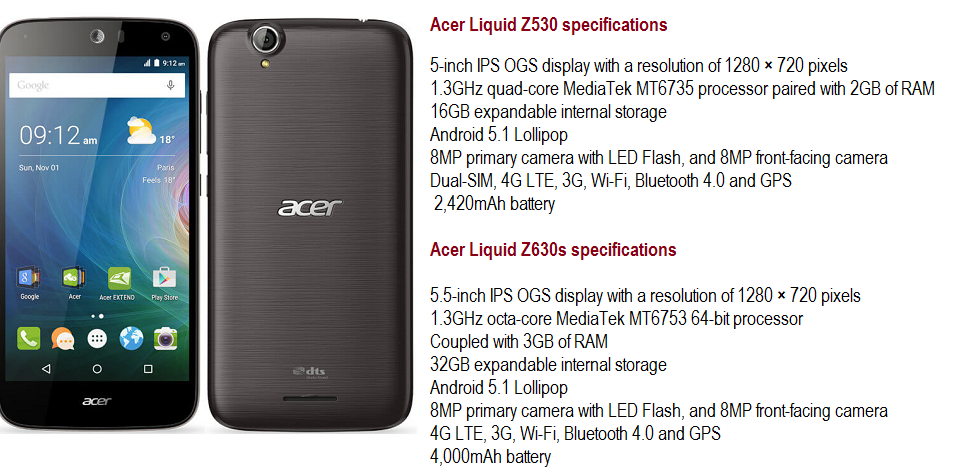 #MannersAli at Acer Launch Event
In the same event Acer India promoted their campaign on Mobile manners with Manners Ali. This campaign is to bring highlights on mobile manners those are missing in today's technology generation.
Must check the introduction video and my fav video of campaign
Above video is my favorite because of the message in it – Don't be a nuisance while having fun
We should always remember that –

Where we are?
What are we doing?
Will that effect the person sitting next to you?
This #MannersAli campaign is a nice initiate by Acer team and I totally support this.
Let Us check Some Interesting Tweets for Acer Gadgets
Sneak peak from #AcerSmartphones launch @AcerPhones pic.twitter.com/wzFC9PnG7o

— Yogita Aggarwal (@tanyagarg60) November 5, 2015
Multi screen #smartphone with #acersmartphones pic.twitter.com/efg5RCLd51 — Letuspublish (@LetUsPublishCom) November 5, 2015
#AcerSmartphones will go #MakeInIndia by this quarter. @AcerPhones

— Yogita Aggarwal (@tanyagarg60) November 5, 2015
Mobile manners with @AcerPhones #acerphones pic.twitter.com/nFXz0oNG1T — Yogita Aggarwal (@tanyagarg60) November 5, 2015
The prize Of Liquid Z530 and Liquid Z630S Respectively #AcerSmartPhones @AcerPhones ! pic.twitter.com/EXL5mXEj5s

— Sachin Chaurasia (@i5achin) November 5, 2015
Also Read –