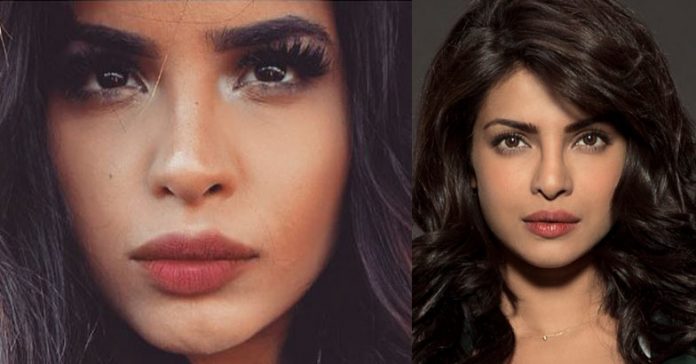 We have heard most of the times that there at least six look-alikes of every person in the world! A look-alike or a doppelganger is a person who resembles another in an eerie and desolate manner. We don't know if you have found your own but we have found the doppelgangers of these 8 B-town celebrities.
Recently the internet was flooded with Priyanka Chopra's doppelganger and we were pretty shocked the way she looked slightly similar to PC, however, her sincere fans didn't really find her look-like similar and there were various mixed reactions.
This made us hunt for people who were the look-alike of our favorite celebrities and we are impressed that there are many people who look like celebs. So keep scrolling and prepare to be amazed at mouth wide open!
Priyanka Chopra and Navpreet Banga:
The Internet has been going crazy with the doppelganger of PeeCee, Navpreet Banga. She is a Vancouver-based fitness vlogger who perhaps shares the gene pool with Priyanka Chopra. Her YouTube channel Browngirlifts is a treasure of motivation and you can see her fabulous videos lifting weights like feathers.
When she is not working out, she is making this world go insane over the fact that how much she resembles Priyanka Chopra. Not only her voice resembles with the actress she even has a tattoo on the side of her arm, making her a Piggy Chop clone!
HOLLYWOOD LOOK ALIKE –
2. Salman Khan and Najeem Khan:

NO, they aren't doubles! Salman Khan and his look-alike Najeem Khan have an uncanny resemblance. While Salman Khan is one of the top most actors of Bollywood, Najeem is 23-year-old actor/model, who originally hails from Kabul, Afghanistan. It was like a dream come true comment moment for Najeem when he played the role of young and naughty Salman Khan in his late teens in movie Bajrangi Bhaijaan.
Must check –  Salman Khan Diet Plan – Pre and Post Workout Daily Diet
Najeem also had the opportunity to meet the 'Dabangg' Khan on the film sets and take a lesson or two from the man himself. Any other difference? Well, he didn't kill deer and doesn't have any criminal records.
3. Anushka Sharma and Nazia Hassan:

Meet Nazia Hassan, Pakistani Pop Singer who has belted out some of the most iconic songs in the world of music with her track, Disco Deewane, and Aap Jaisa Koi. In the 80s her song "Aap Jaisa Koi" from the film Qurbani made her a legend.
Her resemblance with Anushka Sharma makes us speculate if God ran out of new designs for faces! Well, similarities would have been much more exciting if Anushka had not done her lip surgery. Unfortunately, Nazia Hassan died on August 13, 2000, in London after a prolonged battle with lung cancer at the young age of 35.
HOLLYWOOD LOOKS ALIKE –
Must read – Hit And Flop Movies List Of Bollywood Actresses
4. Ranbir Kapoor and Junaid Khan:
Meet the younger brother of star Ranbir Kapoor! This MBA Kashmiri student became popular after young Kashmiris posted his pictures alongside Ranbir Kapoor on Facebook. Junaid Khan became an instant hit that even veteran Rishi Kapoor tweeted on his picture "OMG. My own son has a double!!! Promise cannot make out.
A good double,". The 24-year-old Ranbir lookalike will be soon featuring in a ZEE TV show. He also revealed he is getting a lot of offers for modelling, but he wants to pursue acting.
HOLLYWOOD LOOK ALIKE –
5. Sonakshi Sinha and Priya Mukherjee:
After being endlessly compared to actress Reena Roy seems like Sonakshi Sinha has another look-alike, a woman named Priya Mukherjee. Priya is a huge fan of Sonakshi, loves to dress like her and to such an extent that some can't even tell the difference! Encashing this look-alike match, Priya gets her fair share of event invites.
Also Check – Bollywood Dance Party Songs Lists 2016
Priya has revealed that she has now started to receive job offers to appear on the small screen.
6. John Abraham and Mubashir Malik:
Meet the twin brother of John Abraham! The hot actor found his doppelganger in Mubashir Malik, an Author, presenter and a representative of the Imran Khan Cancer Trust. From face cut to eyes to dimples, the similitude is truly mind boggling!
He resembles actor to such an extent that it will surely make you have a second look to figure out which one is the original one! Now that is what you call exact photocopy!
HOLLYWOOD LOOK ALIKE –
7. Shah Rukh Khan and Ssumier S Pasricha:

After Priyanka, a recent buzz in the town is about look-alike of Shahrukh Khan. Ssumier S Pasricha, or whom you better know as Pammi Aunty! He is the new and latest internet sensation, whose tirades on everything under the sun is being taken up by everyone! Ssumier regularly puts up pictures and videos on his social media accounts and his resemble with King Khan will leave you stunned.
We wonder if he could have performed the role of crazy Fan in SRK movie! By the way, if you remember, a samosa seller in Indore also looked liked a malnutritioned and unhealthy version of SRK! Can someone please find him a job in Bollywood?
Well, the list doesn't end here! Recently Rannvijay Singha, famous for his role in the hit reality television show 'Roadies', found his 'duplicate' in YouTube star Naveen Kasturia. Bollywood legend Amitabh Bachchan has many impersonators, but Gopi from Andhra Pradesh is the best doppelganger, better known as 'Andhra Amitabh'. Rajinikanth, Virat Kohli, Alia Bhatt, Arjun Kapoor, Aditya Roy Kapoor all have found their doppelganger too! Seems like it's the season of 'lookalikes' in Bollywood.
Image source: Google.com
Read More Trending Stories –